Carol H Tucker

Passionate about knowledge management and organizational development, expert in loan servicing, virtual world denizen and community facilitator, and a DISNEY fan



Contact Me




Subscribe to this blog
beladona Memorial

Be warned:in this very rich environment where you can immerse yourself so completely, your emotions will become engaged -- and not everyone is cognizant of that. Among the many excellent features of SL, there is no auto-return on hearts, so be wary of where your's wanders...


kala

(¤´¨)
¸.·´¸.·*´¨) ¸.·*¨)
(¸.·´ (¸.·`¤"If you will practice being fictional for awhile, you will understand that fictional characters are sometimes more real than people with bodies and heartbeats." -- Richard Bach


Navigation Calendar
Days with posts will be linked
Most Recent Posts

Friday the 13th 2017




Today is the 6th day of the 2nd week, the 13th day of the 1st month, the 13th day of 2017, and:

Blame Someone Else Day
Friday the 13th – did you stop and realize every month that starts with a Sunday has a Friday the 13th?
International Skeptics Day
Make Your Dream Come True Day
National Peach Melba Day
National Rubber Ducky Day
National Sticker Day
Old New Year's Eve (Russia, Belarus, Ukraine, Serbia, Montenegro, Republic of Srpska, Republic of Macedonia)
Public Radio Broadcasting Day
Sidereal winter solstice's eve celebrations in South and Southeast Asian cultures; the last day of the six-month Dakshinayana period
ON THIS DAY: In 532 the Nika revolt against Emperor Justinian I started and took place over the course of a week in Constantinople. In 1888 the National Geographic Society is founded in Washington DC. In 1898 Émile Zola's J'accuse…! exposed the Dreyfus affair. In 1910 the first public radio broadcast takes place; a live performance of the operas Cavalleria rusticana and Pagliacci are sent out over the airwaves from the Metropolitan Opera House in New York. In 1942 Henry Ford patented a plastic automobile, which is 30% lighter than a regular car. In 1949 new findings published on asbestosis and the dangers of asbestos in insulation dealt a heavy blow to one of Quebec's major mining industries. In 1968 Johnny Cash performed live at Folsom State Prison. In 1993 Space Shuttle Endeavour headed for space for the third time as STS-54 launched from the Kennedy Space Center. In 2002 the off-Broadway musical "The Fantasticks" ended a run of nearly 42 years and 17,162 performances.



This week has felt like it was abnormally long, and yet the idea that the month is now half over is almost mind boggling. Reminds me of the old saying that even though the hours and days seem long sometimes, the months and years are far too short. Kids seem to grow up so quickly, neh? Today I saw a cute picture of my daughter looking very mischievous and it took me back some thirty years in a blink of an eye….










" The picture books are put away,

There are no children's games to play,

No goodnight kiss, no prayers to hear,

That all belongs to yesteryear.



My hands once busy, now lie still,

The days are long and hard to fill,

I wish I might go back and do,

The little things you asked me to."

0 Comments

|

Add Comment

| Permalink | Friday, January 13, 2017

2017's 12th day




Today is the 5th day of the 2nd week, the 12th day of the 1st month, the 12th day of 2016, and:

Curried Chicken Day
Feast of Fabulous Wild Men Day
Full moon 6:34 AM EST -- the Full Wolf Moon, when wolves howled in hunger outside the villages -- AKA the Old Moon.
Healthy Weight, Healthy Look Day
I Am A Mentor
International Kiss a Ginger Day
National Hot Tea Day
National Marzipan Day
National Pharmacist Day
Stick To Your New Year's Resolution Day
Work Harder Day
ON THIS DAY: In 1528 Gustav I of Sweden was crowned king. In 1773 the first public museum in America was established, in Charleston, SC. In 1866 the Royal Aeronautical Society was formed in London. In 1908 a long-distance radio message was sent from the Eiffel Tower for the first time. In 1926 "Sam 'n' Henry" [later renamed "Amos 'n' Andy" in 1928] aired on Chicago radio. In 1969 the New York Jets of the American Football League defeat the BALTIMORE Colts of the National Football League to win Super Bowl III in what is considered to be one of the greatest upsets in sports history. In 1971 the sitcom "All in the Family" premiered on CBS. In 1986 Congressman Bill Nelson lifted off from Kennedy Space Center aboard Columbia on mission STS-61-C as a Mission Specialist. In 1998 19 European nations agree to forbid human cloning. In 2001 Downtown Disney opened to the public as part of the Disneyland Resort in Anaheim, California. In 2004 the world's largest ocean liner, RMS Queen Mary 2, made its maiden voyage. In 2005 Deep Impact launched from Cape Canaveral on a Delta II rocket.

Today I was continuing to think about reasons to write or things to write about while I was sitting in the doctor's office waiting for a blood pressure check. See, when I went back in mid-December right after vacation, all my numbers were totally out of whack and the doc lectured me. The blood pressure was of particular concern and I rather shamefacedly admitted to skipping medication to make it last until the visit and getting refills [in addition to all the comfort food I was eating around and after the elections]. Well the numbers today looked better, but that top number [the systolic] still places me in the bottom rung of the stage 1 hypertension group despite the medication that has been working for years -- cue lots of lectures about losing more weight, exercising more, and stressing out over things less. At what point does worrying about being healthy actually make you sick?

When Frank had his stroke in Williamsburg, the doc told him that he would have to give up smoking and drinking coffee if you wanted to live. Frank just stared at him. The doc finally turned to me and started to ask me if Frank had heard him and I told him "oh he heard you, he's just deciding whether or not it is worth living if he has to give up both!" Frank agreed with me rather emphatically – the doc thought for a moment and told him that if he stopped smoking he probably could get by with caffeine, and Frank agreed. He stuck with it too, never smoked another cigarette or pipe again – but even though his activity stayed the same, his eating habits changed and he put on a lot of weight [as often happens when someone stops smoking it seems]. He refused to make any other changes to his [our] lifestyle or agree to further surgery and the doctors finally told him that they couldn't do anymore for him if he wasn't going to listen to them . Did he shorten his life by doing what he wanted? Probably. Did he enjoy what time he had left more than he would've if he had done everything the doctors wanted him to do? I really think so – Frank loathed hospitals, disliked doctors and was impatient with all the do's and don'ts.

Fact is that heredity and genetics seem to have just as much to do with high blood pressure as lifestyle. That said, I AM back to counting carbs, watching calories, and managing sugar – the stress I cannot seem to do anything about at the moment as the fear I encountered the month before the election just seems to be fed by all the subsequent events. But I think about Frank's choice at times – it is an option.

Oh and the creative prompt for today that I just ignored?

"12. Greeting: Write a story or poem that starts with the word "hello"."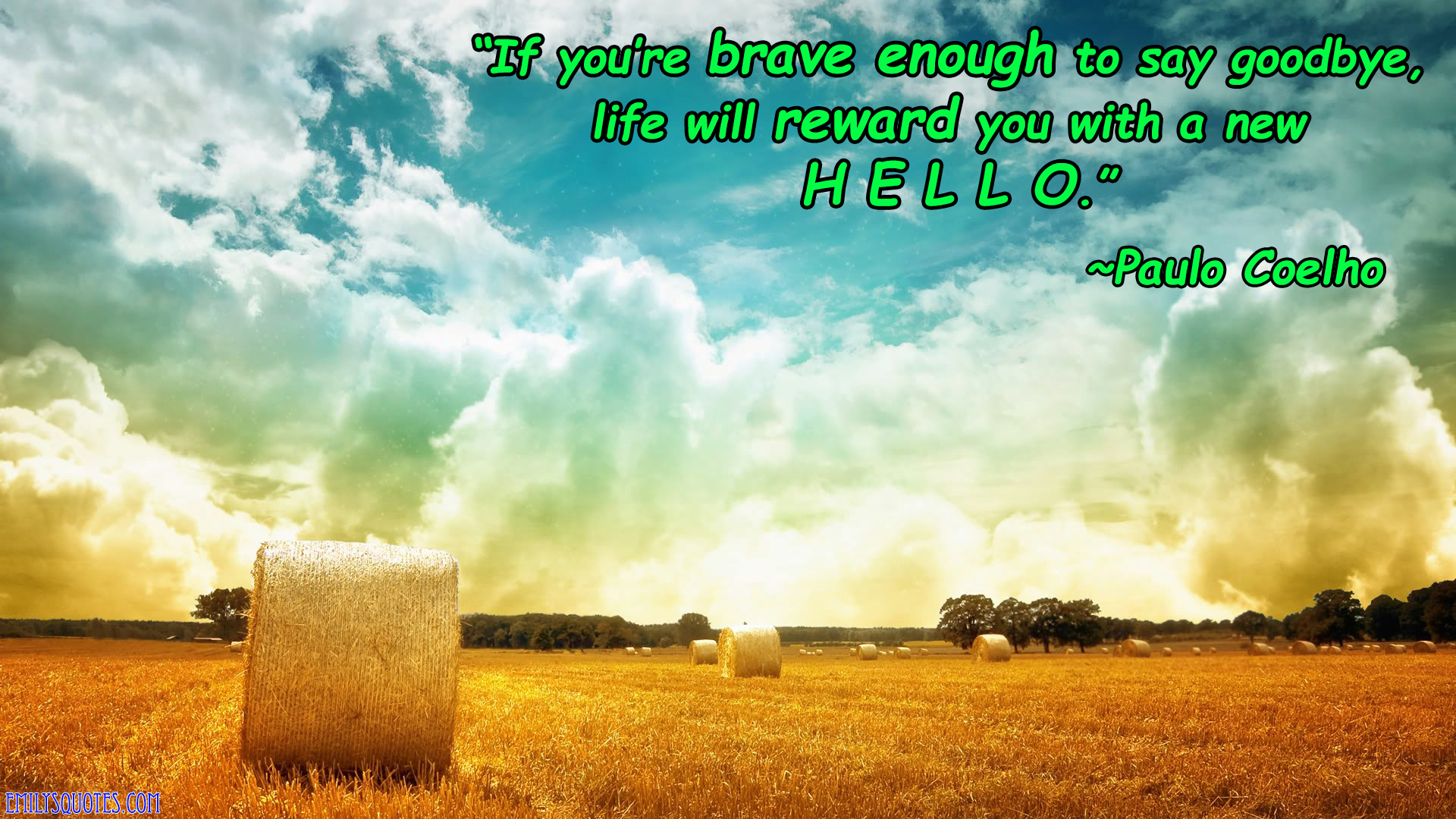 0 Comments

|

Add Comment

| Permalink | Thursday, January 12, 2017

first hump day in 2017




Today is the 4th day of the 2nd week, the 11th day of the 1st month, the 11th day of 2016, and:

Cigarettes are Hazardous to Your Health Day
Learn Your Name in Morse Code Day
National Hot Toddy Day
National Human Trafficking Awareness Day
National Milk Day
National Step in a Puddle and Splash Your Friend Day
Secret Pal Day
ON THIS DAY: In 532 a quarrel between supporters of different chariot teams [the Blues and the Greens]in the Hippodrome escalates into violence in Constantinople which come to be called the Nika riots. In 1569 the first recorded lottery was held in England. In 1759 the first American life insurance company was incorporated in Philadelphia, Pennsylvania. In 1787 William Herschel discovered Titania and Oberon, two moons of Uranus. In 1922 the world's first insulin [then called isletin] treatment was given at the Toronto General Hospital on Leonard Thompson, age 14. In 1927 Louis B Mayer, head of film studio Metro-Goldwyn-Mayer (MGM), announced the creation of the Academy of Motion Picture Arts and Sciences, at a banquet in Los Angeles, California. In 1935 Amelia Earhart became the first person to fly solo from Hawaii to California. In 1996 STS-72 launches from the Kennedy Space Center marking the start of the 74th Space Shuttle mission and the 10th flight of Endeavour.

Sooner or later, every person who has determined that they need to write gets constipated. Well, actually everyone has a problem with constipation at one time or another, but I am not potty-talking at the moment [you're welcome] today at least. I might save that for a later post! No I am talking about not being able to put the words that are floating around in your head onto paper in any form that might be found interesting by yourself much less another reader – and it is apparently a wide-spread issue because a quick Google search on "writing prompts" turns up around 11,800,000 results. Now I don't know if all of them are really links about ideas to journal about because like everyone else, I only really look at the first two pages of the search. Out of all of them, I picked 365 Creative Writing Prompts and scrolled down to #11

11. Dragon: Envision a dragon. Do you battle him? Or is the dragon friendly? Use descriptive language.

Shades of UnderTale, neh? My son got that game and was so amused by the novelty that he got it for me, although I haven't had much time to fool with it.




According to Wikipedia, "a Dragon Lady is usually strong, deceitful, domineering, or mysterious. The term's origin and usage is inspired by the characters played by actress Anna May Wong, the term comes from the female villain in the comic strip Terry and the Pirates." Calling a woman a dragon lady in Western society implies that somehow she is offensive [mainly to men], a sexual predator, and a bit evil/maniacal, plotting for world domination or something. In the East, a dragon lady is more of a compliment as she is seen as highly independent, very honest, queenly, and alluring.

Yup, I need a third option so I can BE the dragon!

0 Comments

|

Add Comment

| Permalink | Wednesday, January 11, 2017

being able to rely on stuff




Today is the 3rd day of the 2nd week, the 10th day of the 1st month, the 10th day of 2017, and:

Houseplant Appreciation Day
League of Nations Day -- established as the Treaty of Versailles went into effect in 1920
National Bittersweet Chocolate Day
National Cut Your Energy Costs Day
National Poetry at Work Day
Peculiar People Day
Save the Eagles Day
Stephen Foster Day
ON THIS DAY: In 49 BC Julius Caesar crossed the Rubicon, signaling the start of civil war and starting a meme about irrevocable choices. In 1776 Thomas Paine published his pamphlet Common Sense. In 1863 the Metropolitan Railway, the world's oldest underground railway, opened between London Paddington station and Farringdon station, marking the beginning of the London Underground. In 1870 John D Rockefeller incorporated Standard Oil. In 1901 the first great Texas oil gusher was discovered at Spindletop in Beaumont, Texas. In 1927 Fritz Lang's futuristic film Metropolis was released in Germany. In 1946 the first General Assembly of the United Nations opened in London; 51 nations were represented. Also in 1946 the US Army Signal Corps successfully bounced radio waves off the Moon and received the reflected signals. In 1962 NASA announced plans to build the C-5 rocket launch vehicle, which became known as the Saturn V Moon rocket, which launched every Apollo Moon mission. In 1964 the Beatles' first album in the United States, "Introducing the Beatles," was released.

Been a while since I mentioned this, but I guess it is time to reiterate. I use two sources for the "today is" segment: First I check Brownie Locks and the 3 Bears and then I take a look at CheckiDay. For "on this day" I use multiple sources and occasionally I have to remind you all that it is by no means an inclusive list, but a gathering of happenings that does not usually involve war or politics or disasters because I am only posting things that pique my interest

Today it came to light that Google had very quietly added information to their FAQ on Hangouts announcing that many features would no longer be available as of April of this year. They are planning to move it over to businesses for meetings and would prefer that social users transfer to Allo if they want to chat in text and Duo if they want to use voice and/or video chat even though that entails using two separate apps rather than having the convenience of all your social communications in one place. This is not unprecedented for Google – a quick search shows that they have retired somewhere around 40 programs/apps/platformst. Although they always present it as progress, it seems that their decisions often do not take into account the needs or desires of their users, no matter how popular or widely used the product has been.

While I was not at all sorry to see Buzz or Wave go, losing the Google Reader was a major inconvenience – getting all the blogs and feeds set up on Newsblur took a great deal of time. Losing the iGoogle was an annoyance -- igHome is just more limited in scope. And last, many of us were quite annoyed when Talk stopped working and we were forced onto the more clunky Hangouts. As a result? Although at the moment I use Gmail, Blogger, Chrome and Hangouts – I no longer permit myself to fully rely on any of them. I have to have a backup plan in place at all times given Google might just pull the plug without a lot of warning for no better reason than the techs at Google have decided that they need to move on.

So, with a track record like this, why would any business trust a program or platform from Google to provide important infrastructure?


0 Comments

|

Add Comment

| Permalink | Tuesday, January 10, 2017

09 JAN 2017




Today is the 2nd day of the 2nd week, the 9th day of the 1st month, the 9th day of 2016 [with 349 shopping days until Christmas], and:

Balloon Ascension Day
International Choreographers Day
Law Enforcement Appreciation Day
National Apricot Day
National Cassoulet Day
National Clean Off Your Desk Day
National Static Electricity Day
National Word Nerd Day
Play God Day – celebrate by making someone's way easier or brighter
ON THIS DAY: In 475 Byzantine Emperor Zeno was forced to flee his capital at Constantinople, and his general, Basiliscus gained control of the empire. In 1793 Jean-Pierre Blanchard became the first person to fly in a balloon in the United States. In 1799 British Prime Minister William Pitt the Younger introduced an income tax of two shillings to the pound to raise funds for Great Britain's war effort in the Napoleonic Wars. In 1816 Sir Humphry Davy tested his safety lamp for miners at Hebburn Colliery. In 1839 the French Academy of Sciences announced the Daguerreotype photography process. In 1894 New England Telephone and Telegraph installed the first battery-operated telephone switchboard in Lexington, Massachusetts. In 1909 Ernest Shackleton, leading the Nimrod Expedition to the South Pole, planted the British flag 97 nautical miles (180 km; 112 mi) from the South Pole, the farthest anyone had ever reached at that time. In 1923 Juan de la Cierva made the first autogyro flight. In 1968 thee Surveyor 7 space probe made a soft landing on the moon; it was the last of America's unmanned explorations of the lunar surface. In 1990 NASA Shuttle flight STS-32 retrieves the Long Duration Exposure Facility (LDEF), left in orbit for nearly 6 years; contained some materials exposure experiments from the University of Toronto's Institute for Aerospace Studies. In 2001 Apple introduced its iTunes music management software at the MacWorld Expo in San Francisco. In 2006 "The Phantom of the Opera" became the longest-running show in Broadway history, surpassing "Cats," which ran for 7,485 performances. In 2007 Steven P. Jobs introduced Apple's long-awaited entry into the cellphone world, the iPhone. In 2017 NASA Voyager is 19 hrs 07 mins 03 secs of light-travel time from Earth

I tweet. I make some comments, I share some pictures, I share links of things that I find interesting. I follow 515 people that I have found to be of interest. I have some followers – bouncing around 190 these days – and lots of folks will start following me when I share a link they find interesting and then promptly unfollow me when I either don't follow them back or I don't keep posting on the same subject. Now and then I tweet in response to a celebrity but have never had a response.

I am on Pinterest. Sharing pictures and humor that just resonate with me for one reason or another. I follow 114 people and 275 people follow me.

I am on Facebook. My tweets and my pins go to my feed, so the 466 people who friended me there see that activity, as well as the usual games and conversations.

I am also In G+ [following 90] and ello [following 41 and followed by 29] – but I interact intermittently on those communities.

Linked-In is my professional profile Although I have 332 connections and belong to several groups, I seldom post here and it is not connected to any other social media.

Why am I going through all of these social media accounts? Because in all the time I have been active [about nine years] I have never been moved to whine online or to attack someone as second-rate, stupid or dishonest just because they said they didn't like me or disagreed with me.

Just saying…..




0 Comments

|

Add Comment

| Permalink | Monday, January 9, 2017

Chirstmas is over




Today is the 6th day of the 1st week, the 6th day of the 1st month, the 6th day of 2017, and:

Apple Tree Day
Bean Day
Cuddle Up Day
Epiphany or Twelfth Night
National Shortbread Day
National Smith Day
National Take a Poet to Lunch Day
National Take Down the Christmas Tree Day
Three Kings Day
World Day for War Orphans
ON THIS DAY: In 1017 Cnut the Great was crowned King of England. I usually ignore ascensions to thrones, but apparently this is a popular day to become royal.... In 1066 Harold Godwinson (or Harold II) was crowned King of England. In 1205 Philip of Swabia was crowned King of the Romans. In1322 Stephen Uroš III was crowned King of Serbia. In 1355 Charles I of Bohemia was crowned with the Iron Crown of Lombardy as King of Italy in Milan. In 1412, according to tradition, Joan of Arc was born in Domremy, France. In 1449 Constantine XI was crowned Byzantine Emperor at Mystras. In1690 Joseph, son of Emperor Leopold I, was crowned King of the Romans. IN 1838 Alfred Vail demonstrated a telegraph system using dots and dashes (this is the forerunner of Morse code). In 1893 the Washington National Cathedral is chartered by Congress and signed by Benjamin Harrison. In 1929 Mother Teresa arrived in Calcutta, India, to begin her work among India's poorest and sick people. In 1931 Thomas Edison signed his last patent application. In 2000 Celia, the last Pyrenean ibex, was found dead after a tree had landed on her.

So today marks the official end of the Christmas holiday as the Magi enter Bethlehem. It always seemed to me that a little bit of magic went out of the air at this time and the New Year doesn't look quite so bright and shiny. Folks seem a little grumpier and strangers no longer smile at you as readily. Presents are put away or returned by now, school and businesses are back to everyday operations, the weather is …. Well it is winter after all. And it is time to pay the piper in two ways – the bills from are rolling in and you have to get on the scale after all the holiday foods and drinks. It is hard not to see it all as drudgery, difficult not to envy those whose lifestyles are so much more comfortable [no I will not insert a rant about income inequity here, but you all are more than welcome to infer it], and very taxing to assume goodwill especially in social media. In short? it is back to what we laughingly call "real life"

bah

Time for me to immerse myself back in my 2nd Life, revisiting MiddleEarth, taking Cities in Flight or making sure the spice is flowing, finding Narnia or a Regency buck, getting on the train from platform 9 ¾, dancing and landscaping in Second Life – in short, boldly going where no one has gone before. If you want to find me? just take the first star on the right or open that blue phone box – but don't forget your towel!




0 Comments

|

Add Comment

| Permalink | Friday, January 6, 2017

on the last day of Christmas....




Today is the 5th day of the 1st week, the 5th day of the 1st month, the 5th day of 2017, and:

Harbin International Ice and Snow Sculpture Festival (Harbin, China)
National Bird Day
National Whipped Cream Day
Sausage Day
The Twelfth day of Christmas and the Twelfth Night of Christmas. (Western Christianity)
ON THIS DAY: In 1066 Edward the Confessor died childless, sparking a succession crisis that will eventually lead to the Norman conquest of England. In 1805 Bookseller Thomas Cary published the first edition of the Quebec Mercury newspaper. In 1914 the Ford Motor Company announced an eight-hour workday and that it would pay a "living wage" of at least US $5 for a day's labor. In 1919 the German Workers' Party, which would become the Nazi Party, was founded. In 1933 construction of the Golden Gate Bridge began in San Francisco Bay. In 1944 the Daily Mail becomes the first transoceanic newspaper. In 1970 the soap opera "All My Children" premiered on ABC-TV. In 1972 Nixon ordered development of the US space shuttle. In 1973 Bruce Springsteen's debut album, "Greetings From Asbury Park, NJ," was released. In 2005 Eris, the most massive and second-largest known dwarf planet in the Solar System, was discovered by the team of Michael E. Brown, Chad Trujillo, and David L. Rabinowitz using images originally taken on 10.21.2003, at the Palomar Observatory. In 2014 a launch of the communication satellite GSAT-14 aboard the GSLV MK.II D5 marked the first successful flight of an Indian cryogenic engine.

Ignoring the political posts online continues to be pretty difficult. DJT just LOVES to tweet-storm and between his comments and the responses [whether pro or con], any facts seem pretty obscured in the welter of heated rhetoric. Two things seem to be totally lost: [1] politeness – manners if you will and [2] a sense of responsibility for those amongst us who need help. I have no idea what caused the raucous nature of both public and private discourse, or even a feel for when an opinion started trumping facts, but I have an idea of why the needy are being ignored – I blame John Calvin

John Calvin stated: "God preordained...a part of the human race, without any merit of their own, to eternal salvation, and another part, in just punishment of their sin, to eternal damnation." This came to be interpreted as the gospel of Prosperity or [Prosperity Doctrine] – meaning that poverty, disease, and lack of well-being is the individuals' fault; God rewards the faithful and the good with wealth. As a result? Those that HAVE feel no moral accountability whatsoever to provide for those who HAVE NOT, and see every single attempt to spend money "for the greater good" as an unwarranted intrusion into their pockets. That's why no argument seems to reach these people, they truly believe they are the chosen and nothing else matters. If you are not chosen? If you cannot retire or pay medical bills or get schooling? That's your problem, get on your knees and take it up with the Lord – and stop coming the chosen ones for handouts.

Sound familiar? But understanding where they are coming from is not helping me understand how to bridge the gap that yawns between what they believe and I do. It isn't helping me to see them as anything but self-righteous and smug; it isn't helping them to see me as anything but a bleeding heart liberal. We don't agree on priorities, we just aren't talking in the same language, and there appears to be no common ground. I don't know how to even open a dialog where both sides have an expectation that the other will listen and then compromise.

If I figure it out, I'll let you all know….




0 Comments

|

Add Comment

| Permalink | Thursday, January 5, 2017

11 Pipers Piping....




Today is the 4th day of the 1st week, the 4th day of the 1st month, the 4th day of 2017, and:

Dimpled Chad Day [thank you Florida]
Earth at Perihelion -- Distance from the Sun's center to Earth's center was 147,100,998 km (91,404,322 mi) at 9:17 am EST today
Free Flower Basket Day [no one brought me flowers tho]
Independence Day -- Myanmar from the United Kingdom in 1948.
National Spaghetti Day
National Trivia Day
Ogoni Day (Movement for the Survival of the Ogoni People)
Pop Music Chart Day
Tom Thumb Day
World Braille Day
World Hypnotism Day
The eleventh of the Twelve Days of Christmas. (Western Christianity)
ON THIS DAY: In 46 BC Julius Caesar defeated Titus Labienus in the Battle of Ruspina. In 1847 Samuel Colt sold his first revolver pistol to the United States government. In 1854 the McDonald Islands were discovered by Captain William McDonald aboard the Samarang. In 1863 the New Apostolic Church was established in Hamburg, Germany. In 1865 the New York Stock Exchange opened its first permanent headquarters near Wall Street in New York City. In 1903 Topsy, an elephant, was electrocuted by the owners of Luna Park, Coney Island; the Edison film company shoots the film Electrocuting an Elephant of Topsy's death [SRSLY?]. In 1912 the Scout Association was incorporated throughout the British Empire by royal charter. In 1958 Sputnik 1 fell to Earth from orbit. In 1959 Luna 1 became the first spacecraft to reach the vicinity of the Moon. In 2004 Spirit, a NASA Mars rover, landed successfully on Mars at 04:35 UTC. In 2010 Dubai opened the world's tallest skyscraper, the 2,717-foot gleaming glass-and-metal tower Burj Khalifa.

Sometimes we talk politics in the office – yeah, I know, you aren't supposed to. We also talk religion and race sometimes too, but I will admit that we do so rather carefully. Don't want HR getting complaints!

This is an office of six individuals – of varying races, creeds and ages spanning over four decades -- all lacking in love or even respect for the incoming President. One of us was talking about the inauguration, and how they planned to stake out a spot on the parade route just so they could make a fuss, showing DJT just how much they loathed him. Made me stop and think about the comment I have read and heard often since the election in different variations: "we put up with Obama for eight years so you can put up with Trump for at least four" and realize there was [or is rather] a huge segment of our country who felt just this strongly about him as my coworker feels about DJT. Made me look at the purpose of the Woman's March and other protests – they don't seem to be protesting to change something [like we were doing back in the day when we wanted out of Nam or were for civil rights], they just want to make their opposition to what is happening known, and to scream defiance at change. IMSNHO, FWIIW: And I have to conclude that nothing is going to get done in opposing the agenda of the 1%, the agenda of old rich white male Uncle Moneybags, until we start talking in a normal tone of voice and actually listening to the concerns of local voters no matter who they voted for in this past election. The UK faces the same challenge in dealing with Brexit – and how both countries navigate this will determine the shape of things to come for many years. For now? we are fighting battles over the welfare of the worker VS the welfare of the privileged that we thought had been decided at the turn of LAST century. And we are left wondering if we have learned nothing about the value of an individual life and how we are all better together.




0 Comments

|

Add Comment

| Permalink | Wednesday, January 4, 2017

3JAN2017




Today is the 3rd day of the 1st week, the 3rd day of the 1st month, the 3rd day of 2017, and:

Drinking Straw Day
Festival of Sleep Day
Humiliation Day
J.R.R. Tolkien Day
National Chocolate Covered Cherry Day
National Drinking Straw Day
National Write to Congress Day
Memento Mori "Remember You Die" Day
Women Rock! Day
The tenth of the Twelve Days of Christmas (Western Christianity)
ON THIS DAY: In 1521 Pope Leo X excommunicated Martin Luther in the papal bull Decet Romanum Pontificem. In 1870 construction of the Brooklyn Bridge began. In 1888 the James Lick telescope at the Lick Observatory, measuring 91 cm in diameter, was used for the first time -- it was the largest refracting telescope in the world at the time. In 1892 JRR Tolkien was born in Bloemfontein, South Africa. In 1910 "Happiness and contentment are found from one end of Canada to the other" - headline in London Times (page 5). In 1913 an Atlantic coast storm set the lowest confirmed barometric pressure reading for a non-tropical system in the continental US. In 1938 the March of Dimes was established by President Franklin D Roosevelt. In 1957 the Hamilton Watch Company introduced the first electric watch. In 1962 Pope John XXIII excommunicated Fidel Castro. In 1977 Apple Computer was incorporated. In 1999 the Mars Polar Lander was launched. In 2000 the last new daily "Peanuts" comic strip by Charles Schulz ran in 2,600 newspapers. In 2004 NASA's Mars rover, Spirit, touched down on the red planet. In 2009 the first block of the blockchain of the decentralized payment system Bitcoin, called the Genesis block, was established by the creator of the system, Satoshi Nakamoto.

I don't make New Year's resolutions. I don't because I learned the ephemeral nature of such oaths at a pretty early age. Instead, I started doing an introspective look back on the year, summarizing events, looking inward to see what changes in me the changes in life had wrought. Last year at this time, when I was struggling with this blog, lacking a focus and a direction, having no reason to really write each day [well almost each day], and decided to try a new format [for lack of a better word]. You can go back and read about the decision here [side note – the missing photo problem strikes again]. It has worked out well, I think, on the whole.

What changes did 2016 bring? I am still pondering that one. The two biggest things for me that are easy to identify:

This is the first full year that I was without a romantic interest in either RL or my 2nd Life [AKA an LDR – long distance relationship] and I am ambivalent about the differences between being alone and being lonely [is it a Freudian slip that I just wrote "looney"?]
This is the first time that a political campaign made me afraid. In the past I have been angry, I have been annoyed, I have been disgusted, but never this deep-down worried. And no, it isn't because HRC lost and DJT won – it is the implications of the deep divides between what I thought I knew about my country and the vitriol that was splashed about so freely.

As for 2017?






Wish me luck!

0 Comments

|

Add Comment

| Permalink | Tuesday, January 3, 2017

the days of Christmas in the New Year




Today is the 2nd day of the 1st week, the 2nd day of the 1st month, the 2nd day of 2017, and:

55-MPH Speed Limit Day -- in 1974 Nixon signed the bill lowering the maximum US speed limit to 55 MPH in order to conserve gasoline during an OPEC embargo.
Blue Monday
Divorce Monday -- (First Monday of year which is when most feel that divorces are filed.)
Happy Mew Year for Cats Day
National Buffet Day
National Cream Puff Day
National Motivation and Inspiration Day
National Personal Trainer Awareness Day
National Run it Up the Flagpole and See if Anybody Salutes It Day
National Science Fiction Day
National Weigh-In Day
Pet Travel and Safety Day
Rose Bowl Game [I thought it was the 1st but not this year] – the 103rd
Tournament of Roses Parade Day -- The Rose Parade's never-on-Sunday rule means this year's parade, the 128th, is on Monday
Swiss Cheese Day
"Thank God It's Monday" Day [only said by those who have this day off]
The ninth of the Twelve Days of Christmas (Western Christianity)
ON THIS DAY: In 366 the Alemanni crossed the frozen Rhine in large numbers, invading the Roman Empire. In 533 Mercurius becomes Pope John II, starting the tradition of adopting a new name upon elevation to the papacy. In 1860 the discovery of the planet Vulcan was announced at a meeting of the French Academy of Sciences in Paris, France. In 1872 Canada and the US first share telegraphed weather reports. In 1929 the US and Canada reached agreement on joint action to preserve Niagara Falls. In 1959 Luna 1, the first spacecraft to reach the vicinity of the Moon and to orbit the Sun, was launched by the Soviet Union. In 2004 Stardust successfully flies past Comet Wild 2, collecting samples that are returned to Earth.

Here it is a gray, dark and dismal day outside, but I am ensconced in my warm, bright apartment enjoying a rare day off after the 1st [which won't happen again until 2020] and contemplating the removal of the holiday decorations and whether or not I shall embark on such an undertaking with the full knowledge that it always depresses me. Since it is technically within the 12 days of Christmas, I can make an argument for leaving it up – indeed that is the rationale for waiting until the weekend after New Year's. On the other hand, taking it all down and putting it away is something best done quickly, like tearing off a bandage. Timing of when to un-decorate varies: there are many who spend New Year's Day taking down the tree [especially if it is a live tree] and lights; there are many who leave the outside lights up through January [and sometimes beyond]. When I used to work retail, those of us in the store on New Year's Eve had to get everything down and put away – of course this was back in the day when everything was actually closed on New Year's Day.

When do you clear away your holiday decorations?


0 Comments

|

Add Comment

| Permalink | Monday, January 2, 2017

And it is a new year!




Today is the 1st day of the 1st week, the 1st day of the 1st month, the 1st day of 2017 [please note there are now 357 shopping days until Christmas], and:

Apple Gifting Day
Commitment Day
Copyright Law Day
Ellis Island Day
Euro Day
First Foot Day
Global Family Day
Independence Day -- Brunei from the UK in 1984, Cameroon from France in 1960, Haiti from France in 1825, and Sudan from Egypt in 1956
Mummers parade – Philadelphia, PA
National Bloody Mary Day
National First Foot Day
National Hangover Day
New Year's Dishonor List Day
Polar Bear Plunge or Swim Day (Cony Island NY & Vancouver, BC)
Public Domain Day
Saint Basil's Day
Tournament of Roses parade – Pasadena, CA
World Day of Peace
Z Day
The Second day of Hogmanay (Scotland)
The last day of Kwanzaa (African-Americans)
The eighth of the Twelve Days of Christmas (Western Christianity)
ON THIS DAY: In 153 BC Roman consuls began their year in office. In 45 BC the Julian calendar took effect as the civil calendar of the Roman Empire, establishing January 1 as the new date of the new year. In 1502 the present-day location of Rio de Janeiro, Brazil was first explored by the Portuguese. In 1600 Scotland began its numbered year on January 1 instead of March 25. In 1700 Russia began using the Anno Domini era instead of the Anno Mundi era of the Byzantine Empire. In 1739 Bouvet Island was discovered by French explorer Jean-Baptiste Charles Bouvet de Lozier. In 1752, under new Gregorian calendar, the year 1752 began today, rather than on March 25, the case in England since the 1300s; the day following Sept 02 to be known as Sept 14; 1751 therefore had only 281 days; and 1752 will have 354 days. In 1772 the first traveler's cheques, which can be used in 90 European cities, went on sale in London, England. In 1773 the hymn that became known as "Amazing Grace", then titled "1 Chronicles 17:16–17" was first used to accompany a sermon led by John Newton in the town of Olney, England [no confirmation on whether or not there were bagpipes]. In 1788 the first edition of The Times of London, previously The Daily Universal Register, was published. In1801 Ceres, the largest and first known object in the Asteroid belt, was discovered by Giuseppe Piazzi. In 1847 the world's first "Mercy" Hospital was founded in Pittsburgh by the Sisters of Mercy; the name will go on to grace over 30 major hospitals throughout the world [both of my children and grandchildren were born in Mercy Hospital in Baltimore]. In 1860 the first Polish stamp was issued. In 1885 25 nations adopted Sandford Fleming's proposal for standard time (and also, time zones). In 1892 Ellis Island opened to begin processing immigrants into the United States. In 1902 the first American college football bowl game, the Rose Bowl between Michigan and Stanford, was held in Pasadena, California. In1906 British India officially adopted Indian Standard Time. In 1908 for the first time a ball was dropped in New York City's Times Square to signify the start of the New Year at midnight. In 1995 the Draupner wave in the North Sea in Norway was detected, confirming the existence of freak waves. In 2014 Asteroid 2014 AA hit the Earth over the Atlantic Ocean. And in 2017 NASA Voyager is 19 hrs 06 mins 52 secs of light-travel time from Earth.

As you can see by the various changes to the way that we record the passing of time, not everyone in the world agreed on what the date is, which certainly has impacted our record of when events actually took place! I find this rather interesting since now humans are coordinating what is known as solar time to atomic time down to the second, having arbitrarily divided the world into time zones. And we celebrate the New Year in many different ways. In the US, it is a federal holiday marking the end of the holiday season, and usually a time for reflection and family. It is a Maryland tradition to bring the New Year in with the same meal for good luck – but different segments of the state eat slightly different things like greens [Pot Likker soup], black-eyed peas [in a dish called Hoppin' John], and cornbread.

Whatever you eat, may this be a good year for you and your's!




0 Comments

|

Add Comment

| Permalink | Sunday, January 1, 2017

2016 heads out


"The Moving Finger writes; and, having writ,

Moves on: nor all thy Piety nor Wit

Shall lure it back to cancel half a Line,

Nor all thy Tears wash out a Word of it."

~ Omar Khayyám



---


Well this is it – the last day of 2016. The 7th day of the 52nd week, the 31st day of the 12th month, the 366th day of 2016 [+ one second], and:


Global Champagne Day
Leap Second Time Adjustment Day
Look On The Bright Side Day
Make Up Your Mind Day
New Year's Eve – AKA First Night, Bisperás ng Bagong Taón, Ōmisoka, and the first day of Hogmanay
New Year's Eve Banished Words List
New Year's Dishonor List
One Voice Day
Universal Hour of Peace Day
Unlucky Day
World Peace Meditation Day
The eighth Night of Chanukah
The seventh of the Twelve Days of Christmas (Western Christianity)
The sixth day of Kwanzaa (United States)
ON THIS DAY: In 406 Vandals, Alans and Suebians crossed the Rhine, beginning an invasion of Gaul. In 1600 the British East India Company was chartered. In 1638 the Lunar eclipse in Huron country [Ontario, Canada] panics natives, who place blame on Jesuits. In 1759 Arthur Guinness signed a 9,000 year lease at £45 per annum and starts brewing Guinness. In1790 Efimeris, the oldest Greek newspaper of which issues have survived till today, was published for the first time. In 1796 – the incorporation of Baltimore as a city. In 1853 a dinner party was held inside a life-size model of an iguanodon created by Benjamin Waterhouse Hawkins and Sir Richard Owen in south London, England. In 1857 Queen Victoria chose Ottawa, then a small logging town, as the capital of Canada. In 1878 Karl Benz, working in Mannheim, Germany, filed for a patent on his first reliable two-stroke gas engine, and he was granted the patent in 1879. In 1879 Thomas Edison demonstrated incandescent lighting to the public for the first time, in Menlo Park, New Jersey. In 1907 the first New Year's Eve celebration was held in Times Square (then known as Longacre Square) in Manhattan. In 1929 Guy Lombardo and his Royal Canadians played Auld Lang Syne to usher in the New Year for the very first time, in their first annual New Year's Eve Party at the Hotel Roosevelt Grill. In 2004 Taipei 101, the tallest skyscraper at that time in the world, standing at a height of 509 metres (1,670 ft), officially opened. In 2009 both a blue moon and a lunar eclipse occurred. In 2011 NASA succeeded in putting the first of two Gravity Recovery and Interior Laboratory satellites in orbit around the Moon.

Like Valentine's Day, New Year's Eve can be a bit lonely. I wish I had words of wisdom to impart that would uplift and inspire, or maybe a witty story or two sending us into the New Year with laughter on our lips. Instead I am frittering away the day, playing with fireworks [if you say Happy New Year on Facebook it responds with a display], reading other people who have summarized the year [funny or not], cleaning up my stash in Diablo III [season 8 ended last night] and pondering whether or not to party again this year in Second Life. But tonight like every year, I will stay up to bid the old year farewell and welcome the new one -- it is said that "An optimist stays up until midnight to see the New Year in. A pessimist stays up to make sure the old year leaves" [Bill Vaughn].....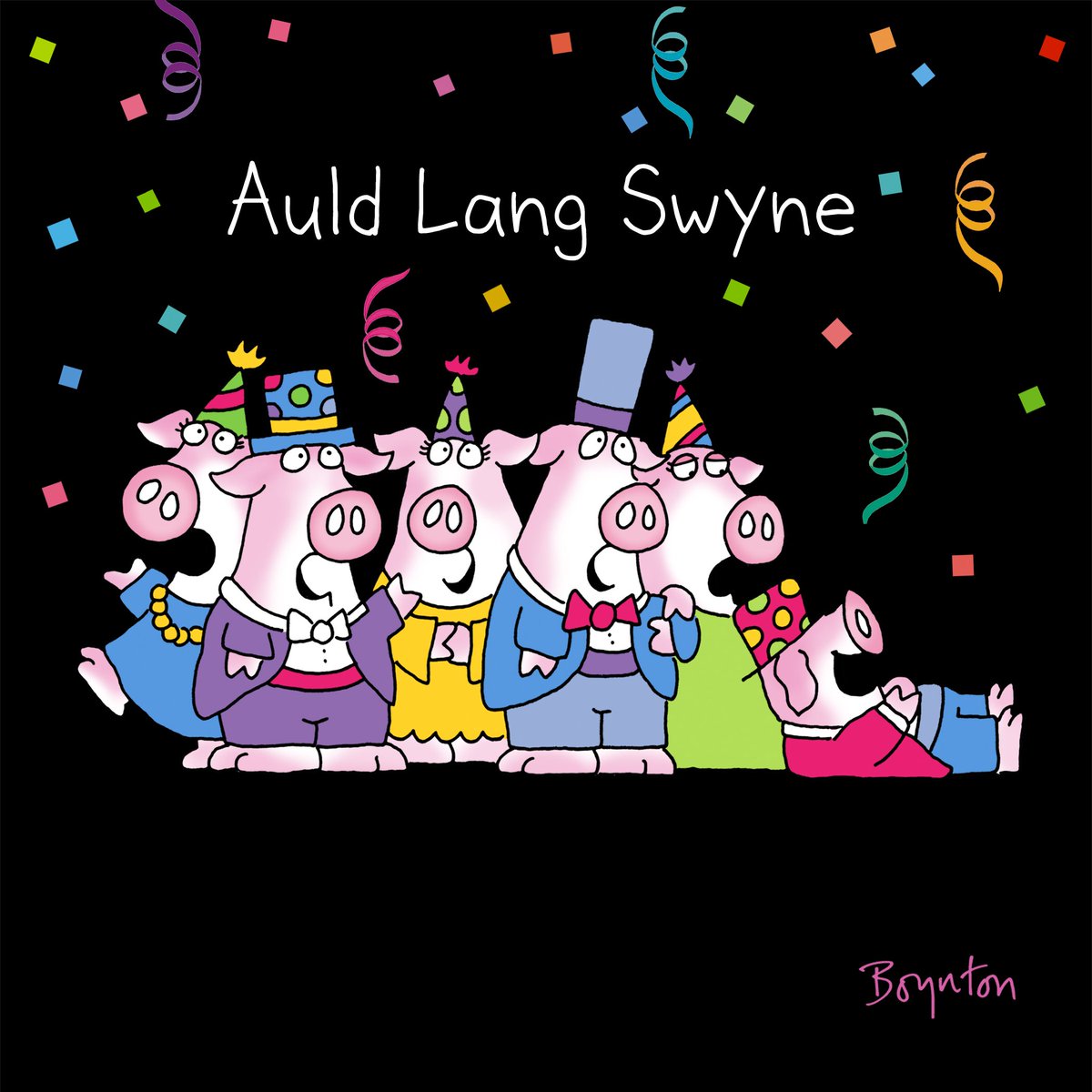 0 Comments

|

Add Comment

| Permalink | Saturday, December 31, 2016

as the year runs down....




Today is the 6th day of the 52nd week, the 30th day of the 12th month, the 365th day of 2016, and:

Bacon Day
Falling Needles Family Fest Day
Festival of Enormous Changes at the Last Minute
National Bicarbonate of Soda Day
No Interruptions Day
The seventh Night of Chanukah after nightfall
The sixth of the Twelve Days of Christmas. (Western Christianity)
The fifth day of Kwanzaa. (United States)
ON THIS DAY: In 1066 a Muslim mob stormed the royal palace in Granada, crucified Jewish vizier Joseph ibn Naghrela and massacred most of the Jewish population of the city. In 1853 the US bought about 45,000 square miles of land from Mexico in a deal known as the Gadsden Purchase to facilitate railroad building in the Southwest. In 1879 Gilbert and Sullivan's "The Pirates of Penzance" was first performed, at Paignton, Devon, England. In 1924 Edwin Hubble announced the existence of other galactic systems. In 1927 the first subway in the Orient was dedicated in Tokyo, Japan. In 1948 "Kiss Me Kate" opened at the New Century Theatre in New York City -- Cole Porter composed the music for the classic play that ran for 1,077 performances. In 1976 The Smothers Brothers, Tom and Dick, played their last show at the Aladdin Hotel in Las Vegas and retired as a team from show business -- both continued as solo artists and they reunited several years later.

Today is the final business day of the year. Traffic coming in was unusually light this morning and I imagine that a lot of people took off. Got me to thinking about the different ways companies handle PTO [paid time off] these days.

Of course, we have the unions to thank for this benefit [as well as the 40 hour work week that seems to be imperiled nowadays], which means not all service organizations even grant it – far too many folks find that if they are not physically "on the clock" then they are not paid. Maybe they are part-time or contracted, but for them? Having things close down early because of holidays or weather or company meetings means that their paycheck is short and that is a rather painful and unpleasant surprise, neh? Back when the executive suite saw employees as assets to be cared for rather than costs to be contained, companies used to give three kinds of leave: personal [usually 3 days], sick time [maybe 5 days], and vacation [2 weeks + whatever rank and seniority earn you]. Back in the 90's companies started lumping it all into a single bucket to make the costs more obvious, and calling it "paid time off". For those of us who are lucky enough to have PTO, most companies accrue it and it is only available [up to a limit] as you earn it. For others, who do use-or-lose since they don't want to carry it as a liability on their books, it is all available as soon as the new year kicks in and it is up to each employee to manage their time so they don't leave hours on the table, effectively giving themselves a pay cut. And then there are the companies that close at designated times each year – for them that week or so they are closed count as their employee's PTO. For example, let's say you are off between Christmas and New Year's – sounds great, doesn't it? But if you only have three weeks of PTO and those five days are deducted from it automatically, that doesn't leave you much wiggle room.

Add the ability to have leisure without worrying about income as one of the privileges the 1% reserve for themselves. After all, why should they pay people when they are not producing for them?








I think I I like the Federation's idea of everyone being given a robust, sustainable income.
0 Comments

|

Add Comment

| Permalink | Friday, December 30, 2016

the countdown has started




Today is the 5th day of the 52nd week, the 29th day of the 12th month, the 364th day of 2016, and:

Independence Day -- Mongolia from China in 1911
National Pepper Pot Day
Still Need to Do Day
Tick Tock Day
YMCA Day (the organization not the song) – and do you know what the letters stand for?
The last new moon of 2016 – in tropical Capricorn
The sixth night of Hanukkah
The fifth day of Christmas (Western Christianity)
The fourth day of Kwanzaa (United States)
ON THIS DAY: In 875 Charles the Bald, King of the Franks, was crowned as Holy Roman Emperor Charles II. In 1798 Upper Canada's Marriage Act recognized marriages not performed by the Anglican Church as legal. In 1851 the first American YMCA opened in Boston, Massachusetts [the song didn't come out until 1978]. In 1860 the Royal Navy launched the HMS Warrior -- with the combination of screw propeller, iron hull and iron armour all previous warships became obsolescent. In 1916 A Portrait of the Artist as a Young Man, the first novel by James Joyce, was first published as a book by an American publishing house BW Huebschis after it had been serialized in The Egoist. In 2003 the last known speaker of Akkala Sami [spoken in Russia] died, rendering the language extinct.

I went back and looked at my blog post made on 12.29.2015. The picture is missing – that is an issue with this blogging platform because we cannot upload photos to it, we have to link to one that is already online and it is an interesting study on how many links get broken over time to see the missing photo. According to CeoExpress, they are going to be making improvements for blogging in the coming year. Hopefully it will permit us to see some analytics as well as making it easier to edit and embed items. Right now I am pretty much limited and I don't like it. I have considered going elsewhere – Blogger and Penzu are two that I tested – but dagnabit I am a charter member of CeoExpress and would like to keep supporting it! Hopefully the past posts will not be lost as they convert – I have lost so much information due to the process of conversion!

While 2016 was ravenous when it came to celebrities and cultural icons, the only real loss in the family was my cat Kula. He had to be put to sleep in early January at age 16+ when he went into kidney failure. Anyway, it was apparent that one year ago today I viewed the coming new year with hope, and despite the political campaigns, was kinda ignoring the big picture to focus on more immediate personal and family concerns. I have been trying to generate that same hopeful feel for 2017, but it is difficult. DJT, Erdogan, Duterte, Netanyahu, and Kim Jong-un all make the world sound and feel like a more dangerous place than ever before, not to mention Brexit and the refuge issues. DJT, police shootings, hate groups, North Carolina, and rampant income inequity all make my country sound and feel like we are going where I never thought we would go. I am struggling to refocus back to my own life, taking my health seriously, spending time with family, and learning to live alone [except for my cat that is – Panda, another rescue cat 9 years old, joined me on July 2nd].

There is always hope. And we always have a choice, neh? 2017 is a tabula rasa -- may the stories we tell be worthy!

Oh, and to answer the question I asked above: YMCA stands for "Young Men's Christian Association"


0 Comments

|

Add Comment

| Permalink | Thursday, December 29, 2016

don't even ask if 2016 can get any worse.....




Today is the 4th day of the 52nd week, the 28th day of the 12th month, the 363rd day of 2016, and:

Call a Friend Day
Holy Innocents Day
National Card Playing Day
National Chocolate Candy Day
Pledge of Allegiance Day -- Congress officially recognized the Pledge of Allegiance in 1945. In 1954, at President Eisenhower's urging, the Congress legislated that "under God" be added
The fifth night of Chanukah [or Hanukkah or Kislev 28]
The fourth of the Twelve Days of Christmas (Western Christianity)
The third day of Kwanzaa
ON THIS DAY: In 418 Pope Boniface I was elected. In 1065 Westminster Abbey was consecrated. In 1795 the construction of Yonge Street, formerly recognized as the longest street in the world, began in York, Upper Canada (present-day Toronto). In 1720 the Lords of Trade propose to deport the Acadians from Nova Scotia; the expulsion does not begin until 35 years later, from 1755-63. In 1867 the US claimed Midway Atoll, the first territory annexed outside Continental limits. In 1895 the Lumière brothers performed for their first paying audience at the Grand Cafe in Boulevard des Capucines, marking the debut of the cinema. Also in 1895 Wilhelm Röntgen published a paper detailing his discovery of a new type of radiation, which later will be known as x-rays. In 1897 "Cyrano de Bergerac," a play by Edmond Rostand, premiered in Paris. In 1912 the first municipally owned streetcars take to the streets in San Francisco. In1918 Constance Markievicz, while detained in Holloway prison, became the first woman to be elected MP to the British House of Commons. In 1958 the Baltimore Colts won the NFL championship, defeating the New York Giants 23-17 in overtime at Yankee Stadium, in what has been dubbed the greatest football game ever played. In 2016 NASA Voyager is 19 hrs 06 mins 44 secs of light-travel time and OSIRIS-REx is more than 320 million km (199 million miles) from Earth.

There is a line in the play "Man of La Mancha" when Don Cervantes is telling a story about the time he was held prisoner in Africa while soldiering and watching his comrades die with the question in their eyes of "why?" He then goes on to say that he didn't think they were asking why they were dying, but why they had lived.

As all the accolades, tributes, reminiscing, and comments build up in social media for the death of two beloved figures – Carrie Fisher, best known for her place as princess in the Star Wars universe, and Richard Adams, best known for writing Watership Down – it is obvious that these two touched many people [myself included] in many different ways. That apparently was the purpose of their lives. But what about the rest of us? Our spheres of influence are much, much smaller – limited by time and location, and sometimes by opportunity. We kinda muddle through our lives, trying to do more good than harm [well most of us anyway – there are those souls who enjoy causing mayhem and damage] and facing the intimations of our mortality with resignation or even despair as we realize that whatever difference we made is virtually undetectable.

From very young, there were two things that I said I wanted of my life: I was going to live to be 100 and I was going to "leave a Carol-sized hole when I was gone". Of course the first is not within the realm of my control – tomorrow is promised to no one after all -- but that second one? Billions of souls come and go on this good earth but not everyone's death is even noticed ….. and there my noodling breaks down, which is why I haven't written that philosophy book yet. OTOH: I firmly believe that every soul matters. OTOH: I firmly believe that not every light shines for everyone. When and if I get these two contrary beliefs reconciled I'll let you know.

I can haz a new year nau?


0 Comments

|

Add Comment

| Permalink | Wednesday, December 28, 2016

counting down the days....




Today is the 3rd day of the 52nd week, the 27th day of the 12th month, the 362nd day of 2016, and:

Free Balloon Day (SpongeBob Squarepants)
Howdy Doody Day
Make Cut Out Snowflakes Day
National Fruitcake Day
Third day of the 12 Days of Christmas
Visit the Zoo Day
ON THIS DAY: In 537 in Istanbul the Hagia Sophia [a Greek Orthodox Christian patriarchal basilica, later an imperial mosque, and now a museum] was completed. In 1512 the Spanish Crown issued the Laws of Burgos, governing the conduct of settlers with regard to native Indians in the New World. In 1521 the Zwickau prophets arrive in Wittenberg preaching the Apocalypse. In 1831 Charles Darwin embarked on his journey aboard the HMS Beagle, during which he will begin to formulate his theory of evolution. In 1845 ether anesthetic was used for childbirth for the first time by Dr Crawford Long in Jefferson, Georgia. In 1845 journalist John L. O'Sullivan, writing in his newspaper the New York Morning News, first used the phrase "by the right of our manifest destiny" for US western expansion. In 1911 "Jana Gana Mana", the national anthem of India, was first sung in the Calcutta Session of the Indian National Congress. In 1922 the Japanese aircraft carrier Hōshō became the first purpose built aircraft carrier to be commissioned in the world. In 1927 Show Boat, considered to be the first true American musical play, opens at the Ziegfeld Theatre on Broadway. In 1932 Radio City Music Hall, "Showplace of the Nation", opened in New York City. In 1935 Regina Jonas was ordained as the first female rabbi in the history of Judaism. In 1945 the International Monetary Fund was created with the signing of an agreement by 29 nations. In 1947 the children's TV program "Howdy Doody" debuted on NBC. In 1966 the Cave of Swallows, the largest known cave shaft in the world, was discovered in Aquismón, San Luis Potosí, Mexico. In 1968 Apollo 8 splashed down in the Pacific Ocean, ending the first orbital manned mission to the Moon. In2004 radiation from an explosion on the magnetar SGR 1806-20 reached Earth -- the brightest extrasolar event known to have been witnessed on the planet.

Christmas is wonderful, especially with little kids, but it is a lot of work for just one day! As a result, I have stubbornly adhered to "Christmas week" and gladly interpret "Happy Holidays" as meaning we get to celebrate from Christmas Eve through New Year's day – not quite the 12 days of Christmas, slightly more than the 8 days of Chanukah but not as long as Advent! As such, I have been on a self-imposed moratorium of political postings or even musings. And I am still trying to concentrate on other news when keeping abreast with current events, hoping not to add to the polarization and nastiness that seems to accompany politics these days. I've done pretty well with biting my tongue -- the only things slipping through is an occasional post about the valiant struggle of the water protectors blocking the DAPL, a few funny [at least to me] jabs, and the admission that the angst about the future is real and tangible.

2016 has been a rough year – I think that is something we all can agree on. And 2017 starts a whole new story that I hope we will be happy with when we look back this time next year. That is what I am trying to focus on…..


0 Comments

|

Add Comment

| Permalink | Tuesday, December 27, 2016

0 Comments

|

Add Comment

| Permalink | Sunday, December 25, 2016

Christmas Eve's Eve




Today is the 6th day of the 51st week, the 23rd day of the 12th month, the 358th day of 2016, and:

Festivus
Human Light Celebration
National Pfeffernüsse Day
National Roots Day
ON THIS DAY: In 484 Huneric died and is succeeded by his nephew Gunthamund, who becomes king of the Vandals -- during his reign Christians are protected from persecution. In 1783 George Washington resigned as commander-in-chief of the Continental Army at the Maryland State House in Annapolis, Maryland. 1788 Maryland passed an act to cede a parcel of land for the seat of the national government, part of which later became the District of Columbia. In 1823 the poem "A Visit from St. Nicholas" by Clement C Moore was first published, in the Troy (NY) Sentinel. In 1893 the opera Hansel and Gretel by Engelbert Humperdinck [wait, what? I thought he was the that pop singer....] was first performed. In 1947 the transistor was first demonstrated at Bell Laboratories. In 1970 the North Tower of the World Trade Center in Manhattan, NY NY was topped out at 1,368 feet (417 m), making it the tallest building in the world.

So today is the last business day before Christmas. It is really nice having Christmas fall on a Sunday – most of us have off on Saturday [Christmas Eve] AND a federal holiday on Monday so the day after Christmas [AKA Boxing Day] we're off as well. Traffic was really light, but Starbucks and Dunkin Donuts were both mobbed, with lines going out the door. Those of us who are in the office are definitely not focused, but trying to deal with business, and most places are closing early.

I am trying very hard to stay in the holiday spirit to the point of not reading some social media as well as ignoring the news as much as possible what with the specter of another arms race being raised via Twitter, the Rockettes being forced to perform whether they want to or not, and North Carolina showing how easily democracy can be castrated….. Get over this election? I am still very much afraid that at best we put an unbalanced reality show star in the White House while at worst we have elected a dictator even while I continue to hope that he will mature and season in the Oval Office to the point where while I might not agree with his decisions, at least I will feel that we have come to the end of days!. Seriously, for the first time in decades, I have actually thought about the fact that I and most of my family would be wiped out in the first wave of nuclear bombing and wondered whether or not relocating would be a good idea. I just keep wondering how Germans felt back in 1937, whether or not they had any inkling or foreboding of what was to come. Maybe they didn't, but if they did, did they feel as helpless as I do to stem the tide? Or did they keep telling themselves that it couldn't possibly be as bad as all that?

So I keep playing Christmas music and concentrating on friends, family and my 2nd Life singing to myself softly "let there be peace on earth and let it begin with me….."


0 Comments

|

Add Comment

| Permalink | Friday, December 23, 2016

North VS South




Today is the 4th day of the 51st week, the 21st day of the 12th month, the 356th day of 2016, and:

Anne and Samantha Day -- the explanation can be found here
Celebrate Short Fiction Day
Crossword Puzzle Day
Forefathers' Day
Global Orgasm Day
Humbug Day [no "bah"]
International Dalek Remembrance Day – threatening extermination for 53 years
National Flashlight Day
National French Fried Shrimp Day
National Hamburger Day
National Homeless Persons' Memorial Day
National Kiwi Fruit Day
National Look at the Bright Side Day
Phileas Fogg Win a Wager Day – and he was home for the holidays
Short Girl Appreciation Day – I always appreciate this one
The First Day of Winter – just think, after this the days get longer, although it never feels like it
World Peace Day
Yule – blessed be and happy Yule
ON THIS DAY: In 69 the Roman Senate declared Vespasian emperor of Rome, the last in the Year of the Four Emperors. In 1620 William Bradford and the Mayflower Pilgrims landed on what is now known as Plymouth Rock in Plymouth, Massachusetts. In 1872 the HMS Challenger, commanded by Captain George Nares, sailed from Portsmouth, England. In 1879 – World premiere of Henrik Ibsen's A Doll's House at the Royal Theatre in Copenhagen, Denmark. In 1898 Pierre and Marie Curie discovered the radioactive element radium. In 1937 Snow White and the Seven Dwarfs, the world's first full-length animated feature, premiered at the Carthay Circle Theatre. In 1913 the first crossword puzzle was published, in the New York World. In 1968 Apollo 8 was launched from the Kennedy Space Center, placing its crew on a lunar trajectory for the first visit to another celestial body by humans.

Did you ever wonder just how different the rhythm of our holidays would be if the cradle of most of the major religions was not the Northern Hemisphere? December and especially the winter solstice is a time of reflection and when it appears that most big religious holidays are celebrated – would we be celebrating in June if the major influence was from south of the equator, because that is when their shortest day is? Right now Australia is in the dead of summer, and all of these observances of Yule and Christmas must feel a little off kilter at times, neh?

Only six more working days until 2017 and all those EOY reports and reconciliations that everyone wants done and out to them on January 3rd…..

*props feet up and toasts the holidays*


0 Comments

|

Add Comment

| Permalink | Wednesday, December 21, 2016

fa-la-la-la




Today is the 3rd day of the 51st week, the 20th day of the 12th month, the 355th day of 2016, and:

Cathode-Ray Tube Day
Dot Your I's Day
Games Day
Go Caroling Day
International Human Solidarity Day
Mudd Day
National Sangria Day
Poet Laureat Day
Sacagawea Day
Winter solstice's eve
World Day of Prayer and Action for Children
ON THIS DAY: In 69 Vespasian, formerly a general under Nero, entered Rome to claim the title of Emperor. In 1606 the Virginia Company loaded three ships with settlers and set sail to establish Jamestown, Virginia, the first permanent English settlement in the Americas. In 1803 The Louisiana Purchase was completed as the territory was formally transferred from France to the US during ceremonies in New Orleans. In 1917 Cheka, the first Soviet secret police force, was founded. In 1946 the popular Christmas film It's a Wonderful Life was first released in New York City. In 1951 the EBR-1 in Arco, Idaho became the first nuclear power plant to generate electricity -- it powered four light bulbs. In 1955 Cardiff was proclaimed the capital city of Wales, United Kingdom. In 1957 the initial production version of the Boeing 707 made its first flight. In 1967 a Pennsylvania Railroad Budd Metroliner exceeded 155 mph on their New York Division, also present day Amtrak's Northeast Corridor. In 1971 the international aid organization Doctors Without Borders was founded by Bernard Kouchner and a group of journalists in Paris, France. In 2007 Elizabeth II became the oldest monarch of the UK, surpassing Queen Victoria, who lived for 81 years, 7 months and 29 days. In 2013 China successfully launched the Bolivian Túpac Katari 1 from the Xichang Satellite Launch Center.

So much for not reading the news: Yesterday the Electoral College performed its constitutional function and confirmed the elections results. The outcome was never really in doubt, and I am unsure whether it should've been – can you imagine the roars of wounded outrage, conspiracy and injustice if DJT had NOT been elected? But the fact is that he did NOT win the popular vote and ¾ of the population either voted for someone else or didn't vote at all. The requirement for "winner take all" voting, however, is not in the constitution but has been set up by the states. I would like to see that changed and the electors voting as the population of the individual state voted – having them vote their conscience isn't really helpful because the majority are basically state-level party hacks. Personally I would like to see the process dismantled, but then you get into the whole discussion about why population centers should dictate the living conditions for the entire country and I do not have an answer for that. And I continue to worry as I read about the rallies and the separate security – the US is starting to sound more and more like one of what we used to dismissively label a "banana republic".

And I am back to the workaday world. Yesterday was pretty intense – got yelled at by the doctor first thing in the morning and then had a mountain of transactions to process. While it was nice to hear that it was a rough week without me, it was not much fun to have that translated into a rough day back! If you notice, I haven't been reminding you how many shopping days until Christmas: [1] it's too close and not funny anymore and [2] I'm done and everything is wrapped. Ah the benefit of having time off and doing a staycation this time of year!


0 Comments

|

Add Comment

| Permalink | Tuesday, December 20, 2016

remember that resolution to not read the news?





Today is the 7th day of the 50th week, the 17th of the 12th month, the 352nd day of 2016, and:

Clean Air Day
National Maple Syrup Day
National Re-gifting Day
Pan American Aviation Day
Wright Brothers Day
ON THIS DAY: In 497 BC the first Saturnalia festival was celebrated in ancient Rome. In 1790 the Aztec calendar stone was discovered. In 1865 the Unfinished Symphony by Franz Schubert was first performed. In 1892 the first issue of Vogue was published. In 1903 the Wright brothers made the first controlled powered, heavier-than-air flight in the Wright Flyer at Kitty Hawk, North Carolina. In 1938 Otto Hahn discovered the nuclear fission of the heavy element uranium, the scientific and technological basis of nuclear energy. In 1957 the United States successfully launched the first Atlas intercontinental ballistic missile at Cape Canaveral, Florida. In 1969 the US Air Force closed its Project "Blue Book" by concluding there was no evidence of extraterrestrial spaceships behind thousands of UFO sightings. Also in 1969 an estimated 50 million viewers watched singer Tiny Tim marry Miss Vicky on NBC's "Tonight Show." In 1989 the animated TV series "The Simpsons" premiered on Fox. In 2003 Space Ship One, piloted by Brian Binnie, made its first powered and first supersonic flight.



I am still trying NOT to read and react to the news as I search among my things for the Spirit of Christmas Present. Of course I haven't minded stirring up controversy about math, but I have been trying not to offer any deliberate provocation. Among the things I read, but decided not to share on social media today:
Now if you will excuse me, I'm going to stick my nose in a book and ignore the world.



0 Comments

|

Add Comment

| Permalink | Saturday, December 17, 2016

12 years ago today....




Today is the 12th anniversary of Frank's death.

He was 12 years older than I and had led a rough life; we always knew it was probable that he would leave me a widow and we had discussed what would happen when he was gone. Intellectually, especially after his second stroke, I knew that his lease on life was running out. But I was totally unprepared for that phone call that afternoon.

It was 1:30 PM and I was in the office of one of my direct reports, trying hard to open a line of communication between her and Accounting – Loan Ops was always in conflict with that department because every single thing we do impacts the general ledger. The switchboard operator called me over the loudspeaker, asking me to call her immediately. I asked Janice if I could use her phone, and she moved from behind her desk to let me do so. I called Myra – and she gave me the number of a police officer that was trying to reach me.

Needless to say, I called him back immediately. He told me that Frank had been taken to the hospital and gave me the number of the doctor to call. At that point Janice asked me if she could do anything and I asked her to go get Kevin, my boss and friend. Kevin was there even as I finally got connected to the doctor. The woman seemed evasive on the phone, not answering my questions about what was wrong no matter how specifically I asked them, and I was getting rather exasperated. Kevin just watched and his eyebrows flew up when finally I said "Are you trying not to tell me my husband is dead?" And everything shifted around me as my life changed when that poor harassed doctor, who did not want to tell me on the phone, simply said "yes".

His Rolex stopped at 9:35 AM, which is the time when they found him slumped over the steering wheel in the drifting security car. The time of death was officially 10:35 AM – the ambulance crew knew Frank and knew if he was declared DOA at the scene there would have to be an autopsy [very few police or ER want to be cut open after dying], so I will always believe they went thru the motions until he got to the hospital and he actually departed when the watch stopped. Because he had not changed the emergency contact information at his job when I started a new job, they couldn't reach me. His supervisor realized his cell phone was in his locker – we didn't have lock screens back then, so they were able to get into it and find "Carol work" and finally call me, four hours later.

12 years, 3 jobs, and 2 moves later and the memories of that moment still break my heart.


Franklin L Tucker

June 2, 1938 - December 16, 2004
0 Comments

|

Add Comment

| Permalink | Friday, December 16, 2016

the Moon




Today is the 3rd day of the 50th week, the 13th day of the 12th month, the 348th day of 2016, and:

Ice Cream Day
National Violin Day
Pick a Pathologist Pal Day
ON THIS DAY: In 1294 Saint Celestine V resigned the papacy after only five months to return to his previous life as an ascetic hermit. In 1577 Sir Francis Drake set sail from Plymouth, England, on his round-the-world voyage. In 1642 Dutch navigator Abel Tasman arrived in present-day New Zealand. In 1769 Dartmouth College was founded by the Reverend Eleazar Wheelock, with a royal charter from King George III, on land donated by Royal governor John Wentworth in New Hampshire, US. In 1928 George Gershwin's An American in Paris was first performed. In 1958 a small bushy-tailed squirrel monkey named Gordo was fired into space in the nose cone of a Jupiter rocket -- after surviving more than 1,500 miles in the rocket a technical problem with the recovery gear meant a parachute failed to open and the nose-cone sank taking Gordo with it. In 1962 NASA launched Relay 1, the first active repeater communications satellite in orbit. In 1972 Eugene Cernan and Harrison Schmitt begin the third and final extra-vehicular activity (EVA) or "Moonwalk" of Apollo 17 -- to date they are the last humans to set foot on the Moon.

Tonight the last super moon, the last full moon of 2016 rose. This December moon is called the "Cold Moon" for obvious reasons or the "Long Nights Moon" because it occurs near the winter solstice—the night with the least amount of daylight. In December, 2016, the winter solstice will occur on Wednesday, December 21 at 5:44 AM EST

And it has been 44 years since that last moon walk.

I remember back when we believed – whole heartedly and fervently – that the present was better than the past and the future was going to be even better. We thought the next step would be colonization of the Moon and then Mars and asteroids. By now? There would be entire families living in space and space flight would be routine….. And then somehow the story changed and the whole leap to the stars collapsed. You want to make America great again? We were explorers, we were scientists, we WERE the future. We knew the way. Give us back that dream….

Look at that moon tonight -- and remember



0 Comments

|

Add Comment

| Permalink | Tuesday, December 13, 2016

better watch out!




Today is the 2nd day of the 50th week, the 12th day of the 12th month, the 347th day of 2016, and:

Feast of Masá'il ("Questions"), the first day of the 15th month of the Bahá'í calendar
Festival of Unmentionable Thoughts
Gingerbread House Day
Green Monday
National 12-hour Fresh Breath Day
National Ambrosia Day
National Cocoa Day
National Ding-a-Ling Day
National Lost Day
Our Lady of Guadelupe
Poinsettia Day
ON THIS DAY: In 627 at the Battle of Nineveh, a Byzantine army under Emperor Heraclius defeated Emperor Khosrau II's Persian forces, commanded by General Rhahzadh. In 1858 the Province of Canada releases its First decimal 1¢, 5¢, 10¢ and 20¢ coins; only 421,000 cents, struck at the Royal Mint in England, are ready for circulation. In 1897 Belo Horizonte, the first planned city in Brazil, was founded. In 1901 Guglielmo Marconi received the first transatlantic radio signal (the letter "S" [***] in Morse Code), at Signal Hill in St John's, Newfoundland. In 1925 the first motel, the Motel Inn, opened, in San Luis Obispo, California. In 2012 North Korea successfully launched its first satellite, Kwangmyŏngsŏng-3 Unit 2, using an Unha-3 carrier rocket.



Today is the 5th day of my staycation. It was nice to have a Sunday night that wasn't taken up by getting ready for the morning. Missed watching Once Upon a Time though – the ballyhooed "winter season finale" was most unsatisfying. What is it with shows taking months off in the middle of the year anyway? Still trying to ignore the news, still trying to get into the Christmas spirit – and yes I know I stopped telling you how many shopping days are left. It's not funny when it is this close to the deadline….




0 Comments

|

Add Comment

| Permalink | Monday, December 12, 2016

all I want for Christmas....




Today is 7th day of the 49th week, the 10th day of the 12th month, the 345th day of 2016, and:

Day of the Horse
Dewey Decimal System Day
Festival for the Souls of Dead Whales
Gingerbread Decorating Day
Human Rights Day
International Shareware Day
Jane Addams Day
National Lager Day
National Wreaths Across America Day
Nobel Prize Day
ON THIS DAY: In 1041 the son of Empress Zoë of Byzantium succeeded to the throne of the Eastern Roman Empire as Michael V. In 1684 Isaac Newton's derivation of Kepler's laws from his theory of gravity, contained in the paper De motu corporum in gyrum, was read to the Royal Society by Edmond Halley. In 1799 France adopted the metre as its official unit of length. In 1868 the first traffic lights were installed, outside the Palace of Westminster in London -- resembling railway signals, they use semaphore arms and are illuminated at night by red and green gas lamps. In 1884 Mark Twain's Adventures of Huckleberry Finn was published. In 1896 Alfred Jarry's Ubu Roi premieres in Paris; a riot breaks out at the end of the performance. In 1901 the first Nobel Prizes were awarded. In 1902 the reservoir of the Aswan Dam in Egypt opened. In 1965 The Grateful Dead played their first concert, at the Fillmore Auditorium in San Francisco. In 1993 the last shift left Wearmouth Colliery in Sunderland; the closure of the 156-year-old pit marks the end of the old County Durham coalfield, which had been in operation since the Middle Ages. In 1998 six astronauts opened the doors to the new international space station. In 2016 NASA Voyager is 19 hrs 05 mins 43 secs of light-travel time from Earth.



I'm still trying to more on from this election, but the news continues to be rather dire – between the tweets, the cabinet, the CIA assessment and the TV deal, I am having difficulty NOT worrying. I continue wondering how the Germans felt back in 1937, if they felt a sense of impending doom and just told themselves it was their imaginations, that they were just overreacting ….



Maybe the holidays and the new year will usher in some sanity. Could I find that in my stocking or under the tree, please?




0 Comments

|

Add Comment

| Permalink | Saturday, December 10, 2016

the lesson of Scrooge




Today is the 6th day of the 49th week, the 9th day of the 12th month, the 344th day of 2016, and:

Cremation Day
Christmas Card Day -- I stopped sending out cards when Frank died, and as a result, I don't get but one or two. I save them and open them on Christmas morning
International Anti-Corruption Day
International Day of Veterinary Medicine
National Pastry Day
National Salesperson's Day
Official Lost and Found Day
Weary Willie Day – Emmett Kelly was born in 1898
World Techno Day
ON THIS DAY: In 480 Odoacer, first King of Italy, occupied Dalmatia. In 1425 the Catholic University of Leuven was founded. In 1531 the Virgin of Guadalupe first appeared to Juan Diego at Tepeyac, Mexico City. In 1851 the first YMCA in North America is established in Montreal. In 1854 the poem "The Charge of the Light Brigade" by Alfred, Lord Tennyson, was published in England. In 1907 Christmas seals went on sale for the first time, at the Wilmington, Delaware post office with the proceeds going to fight tuberculosis. In 1960 the first episode of Coronation Street, the world's longest-running television soap opera, was broadcast in the UK. In1965 A Charlie Brown Christmas debuted on CBS. In 1968 Douglas Engelbart gave what became known as "The Mother of All Demos", publicly debuting the computer mouse, hypertext, and the bit-mapped graphical user interface using the oN-Line System (NLS). In 1979 the eradication of the smallpox virus was certified, making smallpox the first and to date only human disease driven to extinction. In 2016 NASA Voyager is 19 hrs 05 mins 39 secs of light-travel time from Earth

Today I ran across this quote: "We watch movies and TV about heroic acts by soldiers or cops, but maybe that sort of heroism isn't very relevant to modern reality. Maybe real courage is being willing to get up and face another day, and do honest work to the best of our ability despite knowing that, in all likelihood, we won't get the recognition or financial reward we deserve." ~ John F. Groom

And it struck me because it's the truth, neh? It's the unsung heroes, the Bob Crachtits of the world who keep the wheels turning while the politicians and leaders brag about how "we built that". It's the person who gets up and gets going every single morning despite the weather, despite their aches and pains, despite how they feel or think. I have always blamed the accountants for the fact that employees are listed as a cost rather than an asset on the balance sheet. As the middle class erodes and only the 1% prosper, maybe there is hope in this season that the Ghosts of Christmas Past, Present and Future will make the powers that be eschew greed and understand they do better too when we ALL profit.


0 Comments

|

Add Comment

| Permalink | Friday, December 9, 2016

day 1 staying home




Today is the 5th day of the 49th week, the 8th day of the 12th month, the 343rd day of 2016, and:

National Brownie Day
National Christmas Tree Day
Pretend To Be a Time Traveler Day
Take it in the Ear Day
ON THIS DAY: In 395 Later Yan was defeated by its former vassal Northern Wei at the Battle of Canhe Slope. In 1660 a woman (either Margaret Hughes or Anne Marshall) appeared on an English public stage for the first time, in the role of Desdemona in a production of Shakespeare's play Othello. In 1813 Beethoven's Seventh Symphony premiered. In 1854, in his Apostolic constitution Ineffabilis Deus, Pope Pius IX proclaimed the dogmatic definition of Immaculate Conception, which holds that the Blessed Virgin Mary was conceived free of Original Sin. In 2010, with the second launch of the SpaceX Falcon 9 and the first launch of the SpaceX Dragon, SpaceX became the first private company to successfully launch, orbit and recover a spacecraft; and the Japanese solar-sail spacecraft IKAROS passed the planet Venus at a distance of about 80,800 km.

And today is the first day of my staycation…..

That means I got to turn off the alarm and sleep until I woke up! Of course, when you get older, "sleeping in" just means you wake up around the same time because you have programmed your body with that alarm clock going off the same time every single weekday, but at least you don't have to jump up and start the daily routine right away.

Panda hasn't decided whether or not she is happy to have me at home or not. Right now we are playing a game: she meows her best plaintive "play with me" meow and paws me while I am typing at the computer, I stop and reach down to pet her, she runs away. Variations include: I reach down to pick her up, she runs away. I back up from the keyboard and pat my lap, she runs away. I hold onto her tail, she runs away [I let go obviously].

I changed the cover photo on my Facebook page, does that count as decorating?


0 Comments

|

Add Comment

| Permalink | Thursday, December 8, 2016

a little bit of this....




Today is the 4th day of the 49th week, the 7th day of the 12th month, the 342nd day of 2016 [with only 17 shopping days left until Christmas], and:

International Civil Aviation Day
Letter Writing Day
National Cotton Candy Day
National Pearl Harbor Remembrance Day
Special Kids Day
ON THIS DAY: In 43 BC Marcus Tullius Cicero was assassinated. In 1677 Benediction and opening of the Québec Seminary In 1678 Louis Hennepin was first European to describe Niagara Falls; with Dominique La Motte de Luciere. In 1732 the Royal Opera House opened at Covent Garden, London, England. In 1842 the New York Philharmonic gave its first concert. In 1930 W1XAV in Boston, Massachusetts telecast video from the CBS radio orchestra program, The Fox Trappers, including the first television commercial in the US, an advertisement for IJ Fox Furriers, who sponsored the radio show. In 1936 Australian cricketer Jack Fingleton became the first player to score centuries in four consecutive Test innings. In 1963 instant replay made its debut during the Army-Navy football game in Philadelphia, Pennsylvania. In 1965 Pope Paul VI and Patriarch Athenagoras I simultaneously revoked mutual excommunications that had been in place since 1054. In 1972 Apollo 17, the last Apollo moon mission, was launched; the crew took the iconic photograph known as The Blue Marble as they leave the Earth. In 1993 a 250-year-old chestnut tree in east London was chopped down. In 1995 the Galileo spacecraft arrives at Jupiter, a little more than six years after it was launched by Space Shuttle Atlantis. In 2015 the JAXA probe Akatsuki successfully entered orbit around Venus.

Odds 'n ends today:

What do you think is necessary for your Christmas tree? Garland or no garland – Frank and I used to alternate each year because I liked it and he didn't. White lights, all one color, or multi-colored? And are they always on, twinkling or blinking? How do you put on the tinsel – globs, groups or one at a time [yup, my ex used to put each strand on individually. One a 8.5' tree. One at a time.]

Dear safe driver: if I can coast uphill faster than you are driving, then even if it is raining and we are on a side street, you are an idiot. Stopping at a light with a 1 ½ car space between your front bumper and the car in front of you is also idiotic. Slamming your brakes on because the light just turned yellow is just not smart. And by the way, when the light turns green, I understand you might want to check that oncoming traffic has stopped before turning, but taking so long that you leave the person behind you with a yellow arrow is exasperating in the extreme.

Well hello there mirror! Remember how many times I told you that I didn't want to dress like my mother? Well today when I checked myself out, I realized that I am not wearing a single solitary thing today that she would have even thought to put on her body, from underwear to glasses. Of course, that means I prolly am not dressing my age – and I don't care.

Dear Work: I am grateful to have a job and I like the people I work with. But for the next seven business days, the only time I am even going to THINK about you all is if I happen to look at my watch – and I will smile smugly and say "they are working" and laugh.



0 Comments

|

Add Comment

| Permalink | Wednesday, December 7, 2016

today




Once again this blogging platform has informed me that I have used too many words, so this is a seperate post!



Today is the 3rd day of the 49th week, the 6th day of the 12th month, the 341st day of 2016, and:



Independence Day: Finland from Russia in 1917
Miners' Day -- the worst mining disaster in American history occurred in the community of Monongah, West Virginia on December 6, 1907, resulting in the deaths of 361 miners
Mitten Tree Day
National Gazpacho Day
National Microwave Oven Day
National Pawnbrokers Day
Put on Your Own Shoes Day
St. Nicholas Day


ON THIS DAY: In 1060 Béla I was crowned King of Hungary. In 1534 the city of Quito in Ecuador was founded by Spanish settlers led by Sebastián de Belalcázar. In 1752 John Bushell published 8-page bound pamphlet for the Nova Scotia government, "An act for the relief of debtors;" the first book published in Canada. In 1768 the first edition of the Encyclopædia Britannica was published. In 1877 the first edition of The Washington Post was published. In 1884 the Washington Monument in Washington DC was completed. In 1897 London became the world's first city to host licensed taxicabs. In 1923 a presidential address was broadcast on radio for the first time as President Calvin Coolidge spoke to a joint session of Congress. In 1933 US federal judge John M. Woolsey ruled that James Joyce's novel Ulysses is not obscene. In 1947 the Everglades National Park in Florida was dedicated. In 1953 Vladimir Nabokov completed his controversial novel Lolita. In 1957 America's first attempt at putting a satellite into orbit blew up on the launch pad at Cape Canaveral.

0 Comments

|

Add Comment

| Permalink | Tuesday, December 6, 2016

can you see what I see?




Eyewear is big business as anyone who meanders on past an eye place in the mall will realize – and I am not even touching on the fortunes made by selling sunglasses. For those of us who wear spectacles day in and day out, getting a new pair of glasses is an expensive proposition that we potentially incur every other year or if we are unfortunate enough to either break our glasses or have major vision adjustments needed. Insurance companies are quite aware of this and that is why vision insurance is pricey, difficult to get, only covers exams and lenses, and has to be taken out for two years at a pop.



First there is the cost of the exam itself, which varies – and you have to decide whether or not you can go to an optometrist or if you need an ophthalmologist. Both are fully trained, but the latter is actually an MD and that is needed if you need prescriptions or surgery of some sort. Usually once you find a place or person to go, you tend to stick with them and woe betide you if you move or your trusted provider retires! And sometimes there are hidden costs – not all pictures and eye drops are "approved", for example – and then the Eye Doctors of DC charge $60 just to write down the prescription.



Then there is the cost of the lens. Not all lens are created equal! There are stigmatisms that require special grinding. The first decision is whether or not you are going to go with real glass or plastic. Glass lenses are older technology; they are heavy and if they shatter, your eyes are in danger of being cut. On the plus side, Photogray is only available in glass – it changes shades as you go outdoors, but it is sensitive to light [You used to have to "season" the glass by sitting it out in the sun for several hours before wearing them so that it would work well] not UV rays so it works when you are driving. Plastic is much lighter, less expensive than glass, and now that transition lenses are available, most people [including me] go that way. However, the transition lenses react to UV rays, not light, which means in the car you do not have sunglasses while driving now that automobiles all have UV resistant glass. Then there are bifocals, trifocals or graduated lenses – depending on your near/far vision. And there is a special coating that you can get to resist scratching








Last, there is the cost of the frames, and there is no insurance coverage available for this. Obviously if these glasses are going to be on your face pretty much every time someone sees you, so you want something that you really like – trying to figure out what frames look right on you is a stressful activity to say the least – you are trying different things on and you cannot quite see, so you are relying on the opinion of strangers to tell you how you look. And frames are extremely expensive, usually running $500 - $800 for pretty standard issue and even more for the more fashionable items. The bridge has to be wide enough for your face, nose pads are a necessity [for me at least], and certain kinds of lenses will not work with all frames, especially narrow ones or those with unusual shapes. There are features like spring hinges and issues about durability to consider – if you are wearing these every day, day in and day out, you are going to be adjusting them, knocking them on things as you peer now and then, laying down watching TV, so how they will or will not bend is a factor.. And like everything else, there are trends – from what is now known as "bug-eyes" to granny glasses to wire frames to just lenses [without eye wires] to cat eyes to horn rim, etc etc and so forth. Lately there has been an increase of craft made frames or the ability to buy them online, but the problem with that is getting an optometrist who will check the fit and make sure the lenses rest correctly in front of your pupils because the frames can impact the way that you see. And it isn't like they can take them back if you don't like the look when it is all done! Once I tried to get a second set glasses at Pearle Vision Center at Hunt Valley Mall [yes it was that long ago] during a special sale, and the end pieces were way too long and stuck out of my hair in the back -- I refused to take them and demanded my money back when they couldn't adjust them. The manager agreed with me that those frames were never going to fit me and they shouldn't have sold them to me and that is the only time I have ever been able to give into buyer's remorse since I started wearing glasses at 8 years old..



So, if you notice someone has new glasses, try to say something nice about them!

0 Comments

|

Add Comment

| Permalink | Tuesday, December 6, 2016

ho ho ho




Today is the 2nd day of the 49th week, the 5th day of the 12th month, the 340th day of 2016, and:

AFL-CIO Day
Bathtub Party Day
Columbian International Day of The Reef
International Ninja Day
International Volunteer Day [for Economic & Social Development]
Krampus
National Blue Jeans Day
National Communicate With Your Kids Day
National Commute With Your Baby Day
National Sacher Torte Day
Repeal Day
World Soil Day
ON THIS DAY: In 63 BC Cicero declaimed the fourth and final of the Catiline Orations. In 1700 a severe influenza epidemic hits the people of Montréal. In 1766, in London, James Christie held his first sale. In 1848, in a message to the United States Congress, US President James K Polk confirmed that large amounts of gold had been discovered in California. In 1890 Québec strongman Louis Cyr lifts 490 lbs with one finger; working with the P.T. Barnum circus. In 1901 Walt Disney was born in Chicago. In 1933, national Prohibition came to an end in the US as Utah became the 36th state to ratify the 21st Amendment to the Constitution, repealing the 18th Amendment. In 1958 subscriber Trunk Dialling (STD) was inaugurated in the UK by Queen Elizabeth II when she spoke to the Lord Provost in a call from Bristol to Edinburgh. In 1964 Lloyd J. Old discovered the first linkage between the major histocompatibility complex (MHC) and disease—mouse leukemia—opening the way for the recognition of the importance of the MHC in the immune response.

The holiday season is pretty ubiquitous and I really don't know how you can possibly avoid having it shoved in your face at every turn: songs on the radio and via Muzak, decorations abounding, friends posting pictures across social media, holiday lights shining in the dark. I spent a great deal of time in Second Life decorating my home there. In real life things are more subdued in the apartment – at the moment I only have a wreath on the door. I tend not to be able to get into the holiday spirit sometimes and I deal with it one of two ways – either try and decorate figuring that will generate the feeling or settle for enjoying other people's displays. Oddly? I never questioned the need to put up a tree, not once, until the year Frank died on that Thursday morning. We had planned to put up all the decorations that weekend and needless to say, I didn't do anything that year. In fact, I was intensely grateful that I didn't have to go through the sad work of putting everything away while I was dealing with my grief. Nowadays? Sometimes I really just don't feel like decorating the apartment, especially since I know that I am not getting any company, because it feels a bit like a refuge from all the holiday blitz and bustle.

Every now and then I wonder what it is like this time of year if you do not celebrate Christmas [whether we are talking about religious or secular celebrations]. How does one cope with the relentless onslaught when it doesn't mean anything to you? What do you tell your children as the different ads air on TV, not the mention the spate of holiday-themed specials? While I most emphatically do not agree with washing the holiday season out and rendering it bland – I would much prefer to celebrate everyone's observances. And I have to admit that for some -- whether it is a matter of belief, grief, being away from home/family, or having to work -- Christmas is just another day.


Guess I have let the Krampus get to me. I'll work on it

0 Comments

|

Add Comment

| Permalink | Monday, December 5, 2016

'tis the season




Today is the 6th day of the 48th week, the 2nd day of the 12th month, the 337th day of 2016, and:

Business of Popping Corn Day – apparently this is a thing to do these days
Faux Fur Friday
International Day for the Abolition of Slavery
International Sweater Vestival – wear a sweater vest to work
National Fritters Day
National Mutt Day
National Salesperson Day
Play Basketball Day
Safety Razor Day
Special Education Day
ON THIS DAY: In 1409 the University of Leipzig opened. In 1697 St Paul's Cathedral was consecrated in London. In 1763 the Touro Synagogue in Newport, Rhode Island was dedicated, the first synagogue in what will become the US. In 1982, at the University of Utah, Barney Clark becomes the first person to receive a permanent artificial heart.

When do you decorate for Christmas?

Back in the day, when we were using a fresh tree, the tree went up the weekend before the day and came down the weekend after New Year. Nowadays it appears that most of us use artificial trees for one reason or another [convenience, allergies, fire codes] and we can put it up anytime and leave it up as long as we want to. I have heard from those who have their trees and decorations up already, celebrating the first Sunday of Advent by putting up lights. The lighting of the Rockefeller Center and the National Christmas trees, and the Baltimore Washington Monument, have already taken place and after all, we only have three weeks to enjoy the colors and sparkles.

There are degrees of decorating as well. Grandmom Hughes used to have things in every room and the overall impression was always very festive – but then again, she got a lot of company during the season. Perhaps the fact that I am only decorating for myself alone has impacted me – it has only been in the past couple of years that I have had the heart to put up anything – and many times that is after the anniversary of Frank's demise. I do have a tiny tree that my daughter got me at a craft show, and a door decoration that doesn't light anymore. When I do decorate? I don't festoon this apartment with garlands, I haven't unboxed the ceramic village that Frank painted since he died, and the main focus is the pile of wrapped presents under the tree that gets delivered on Christmas morning. Do you make yourself decorate on the theory that having the things around you will promote getting into the spirit?

This year I am dragging myself into December, focused on the EOM reconciliations and reporting, still trying to break the habit of reading the news about politics. Of course I am always a bit moody as the 16th approaches – maybe I should ask bossman if I can decorate my cubicle at work….




Now that would be interesting, wouldn't it?

0 Comments

|

Add Comment

| Permalink | Friday, December 2, 2016

officially apologizing




Today is the 5th day of the 48th week, the 1st day of the 12th month, the 336th day of 2016, and:

Antarctica Day
Basketball Day
Bifocals at the Monitor Liberation Day
Christmas Lights Day
Civil Air Patrol Day
Day Without Art
Eat a Red Apple Day
National Christmas Tree Lighting (DC)
National Pie Day
Rosa Parks Day
Wear a Dress Day
World AIDS Day
ON THIS DAY: In 800 Charlemagne judged the accusations against Pope Leo III in the Vatican. In 1824, since no candidate received a majority of the total electoral college votes in the election, the US House of Representatives is given the task of deciding the winner in accordance with the Twelfth Amendment to the US Constitution (John Quincy Adams was eventually chosen the winner over Andrew Jackson and William Crawford.). In 1913 the Buenos Aires Metro, the first underground railway system in the Southern Hemisphere and in Latin America, began operation, and the Ford Motor Company introduced the first moving assembly line. In 1952 the New York Daily News reported the news of Christine Jorgensen, the first notable case of sex reassignment surgery. In 1959, representatives of 12 countries, including the US, signed a treaty in Washington setting aside Antarctica as a scientific preserve, free from military activity. In 1960 Paul McCartney and Pete Best were arrested (and later deported) from Hamburg, Germany, after accusations of attempted arson. In 1963 the Beatles' first single, "I Want to Hold Your Hand," was released in the United States.



I owe Republicans an apology.

I have lived and voted in Maryland all my life – and most of it in Baltimore County -- but I have never really paid much attention to the legislative, congressional and election districts. In fact, I probably hadn't looked at them since high school, back when I had a great-uncle in the MD State Legislature [Dave Williams from Frostburg]. My voting district changed when I moved from east Baltimore county to the west, then again when I moved to Montgomery County, which made sense to me, so I guess I had the mistaken impression that the districts were tied to population and county lines.

Wrong!





Tell me, in what world does this map make any sense at all?

I get it. MD voters in Cumberland and Frostburg [where I have family], as well as the Eastern Shore, have totally different concerns than those voters in Baltimore City, Annapolis and DC suburbs. Just because more people live in the latter three areas I mentioned, why should the entire state policy be determined by them? How do the folks in Western MD and the rural areas know that they are being heard and adequately represented? I would like to think that these ridiculous maps were drawn to try and be inclusive, but I admit that is politically very naïve. So here, in one of the smaller states which is sometimes knows as "America in miniature" due to the differing landscapes it contains, is the issue of the Electoral College – which is more important to represent, acreage or population? If you go with acreage, then an individual's vote in Wyoming has 3X the weight/impact of mine here in MD – and you have outcomes where a candidate can lose the popular vote and still win the election [John Quincy Adams anyone?]. If you go with population, then the population centers sweep everything and all of the folks in the remote and more rural areas feel like their government can't understand their issues and doesn't truly represent them.

IMNSHO: The answer would seem to me that we need fewer candidates who take advantage of our differences, fewer campaigns based on polarizing folks by using emotional hot buttons, and somehow elevate politics into statesmanship – speeches that put the welfare of all, the needs of the many, the infrastructure that we all rely on, first. Personally I think that the income inequity that is the result of the policies followed since the Reagan era is part and parcel of the problem, so we need candidates that can convince the Rich Uncle Moneybags they will get richer when all prosper. And we need it done without creating a "them" to blame.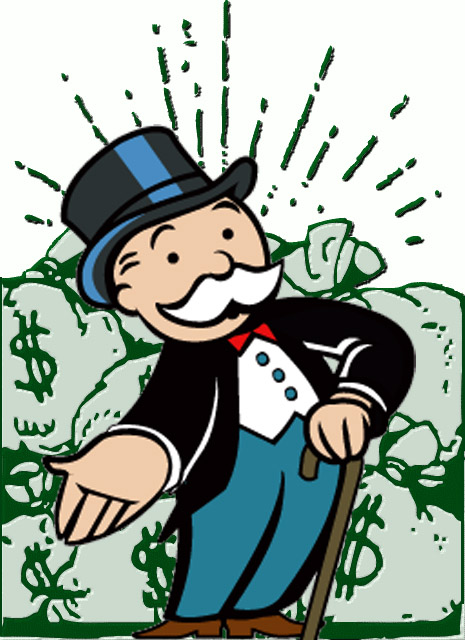 But I'm not smart enough to figure out how to do that. I wish I was….




0 Comments

|

Add Comment

| Permalink | Thursday, December 1, 2016

long before My LIttle Pony




Today is the 4th day of the 48th week, the 30th day of the 11th month, the 335th day of 2016, and:

Cities for Life Day
Computer Security Day
Independence Day: Barbados from the United Kingdom in 1966; South Yemen from the United Kingdom in 1967
National Meth Awareness Day
National Methamphetamine Awareness Day
National Mousse Day
National Stay at Home Because You're Well Day
Perpetual Youth Day
Rabi'I -- the start of the third month of the Muslim calendar
Rockefeller Center Christmas Tree Lighting
Sigd -- symbolizes the acceptance of the Torah, one of the unique holidays of the Beta Israel (Ethiopian Jewish) community, and is celebrated on the 29th of the Hebrew month of Cheshvan
Women Wednesday [AKA Women Crush Wednesday] – a meme where you supposed to post info about a woman you admire
ON THIS DAY: In 1707 the second Siege of Pensacola came to end with the failure of the British to capture Pensacola, Florida. In 1872 the first-ever international football [AKA soccer] match took place at Hamilton Crescent, Glasgow,between Scotland and England. In 1886 the Folies Bergère staged its first revue. In 1934 the LNER Class A3 4472 Flying Scotsman became the first steam locomotive to be authenticated as reaching 100 mph. In 1954, in Sylacauga, Alabama, United States, the Hodges meteorite crashed through a roof and hits a woman taking an afternoon nap; this is the only documented case in the Western Hemisphere of a human being hit by a rock from space. In 1982 Michael Jackson's second solo album, Thriller was released worldwide; it will become the best-selling record album in history.

Participation in fandom seems to start pretty young. My son was a Star Wars collector and my daughter concentrated on Smurfs and Strawberry Shortcake. Back in the day, Davy Crockett was the thing. For me it was horses – and it was almost an obsession, which considering I was a pudgy unathletic little girl who lived in the suburbs and only saw a horse from afar now and then, seems to defy reason. There was absolutely no chance that I would ever own a horse. When I was little, the Baltimore Raceway was just across Martin's BLVD and my father once took me to watch the trotters warming up, but I was never allowed to go back – crossing that very busy highway really wasn't something you wanted a kid doing and my father did have a problem with betting, in all fairness to my mother. But if a book had a picture of a horse on it, I read it. I had little rubber models of horses [my parents wouldn't invest in the beautiful Breyer models to make a herd] and I used to take my throw rugs and create mountains and valleys and tell all kinds of stories about them, finding them far more fun than dolls. Walter Farley's stallion Flame was the alpha male of course – I loved those stories of the island – but there was an older little black horse with a missing fetlock who limped through my tales. Blackie was the wise one of the herd, the one who thought a bit differently. Flame often stopped and listened to him, and had been known to fiercely protect him from the predators. There were females and males in the herd and everyone didn't like everyone else, which is how the conflicts would arise. One of the worst punishments my mother inflicted was when she was so angry that she grabbed the little toy suitcase full of the models and threw them all away – and one of the worst spankings I got was when I rescued them from the garbage and tried hiding them under my bed and they were confiscated again, permanently this time because my mother decided I was too old to have them. I fantasized about working at a stable and earning enough for lessons, but never did anything about it because there wasn't anywhere I could get to on my bike [the race course had closed up long ago] and my mother certainly wasn't going to drive me.

The obsession slowly waned -- in 5th grade, I discovered the world's greatest consulting detective and then in 8th grade, I got 20,000 Leagues Under the Sea for Christmas. Both of these were totally different fandoms and set me careening off on a different track. Later, as an adult, I had an opportunity a couple of times to ride and took each one eagerly, although I was intimidated a bit by the sheer size of the animal. Learning to ride, really ride, being able to bond with a horse even if it means dealing with my allergies and mucking out the stable, is still on my bucket list.


0 Comments

|

Add Comment

| Permalink | Wednesday, November 30, 2016

hey, what happened to the humor?




Today is the 3rd day of the 48th week, the 29th day of the 11th month, the 334th day of 2016, and:

Customer is Wrong Day
Electronic Greeting Card Day
Giving Tuesday
International Day of Solidarity with the Palestinian People -- because in 2012 the United Nations General Assembly voted to accord non-member observer state to Palestine.
National Chocolates Day
National Lemon Creme Pie Day
National Square Dance Day
Square Dancing Day
Throw Out Your Leftovers Day
ON THIS DAY: In 561 King Chlothar I died at Compiègne; the Merovingian dynasty is continued by his four sons, Charibert I, Guntram, Sigebert I and Chilperic I, who divided the Frankish Kingdom. In 1777 San Jose, California, is founded as Pueblo de San José de Guadalupe by José Joaquín Moraga. In 1877 Thomas Edison demonstrated his phonograph for the first time. In 1944 the first surgery (on a human) to correct blue baby syndrome was performed by Alfred Blalock and Vivien Thomas. In 1961 Enos the chimp was launched from Cape Canaveral aboard the Mercury-Atlas 5 spacecraft, which orbited Earth twice before returning.



When you think about blogging, you envision yourself making a series of witty remarks on some small aspect of life that will immediately resonate with your extensive, eclectic gathering of interested readers. After all, you have learned that every person sees the world from their own perspective and it is all but impossible to see the world from another point of view [since telepathy seems not to be a thing]. You have decided that it is perspective that trumps truth every time, and that by sharing your point of view and perspective, you will open a window that others will be happy to gaze through.. And some days, you do have something to say, which may or may not be pertinent, may or may not be profound, may or may not be physagogue [yeah not the word that I was thinking of, but too good to pass up – beats piddle, neh?]. But then there are other days when there just doesn't seem to be a lot to say. I think those days happen to every writer – professional, casual, intermittent – on a regular basis, just the really talented ones know stories that soar on past and just keep going, even when the narrative is their own.

Today I was going to write about my eye doctor visit yesterday – but somehow, I couldn't make the story funny. I found out I needed new glasses and that although I am developing cataracts [and have been for about four years], they are still tiny. I learned all about how my eyes were aging. This looks pretty much like the image of my eye the doc showed me – it is a floater that gets in the way now and the and has to be shifted by blinking or rolling my eyes.




Come on, there has to be some humor in being told that you are medically average and boring, right?

0 Comments

|

Add Comment

| Permalink | Tuesday, November 29, 2016

gotta play to win....




Today is the 333rd day of 2016 [a fun number made even better since there are 33 days remaining], the 2nd day of the 48th week, the 28th day of the 11 month, and:

Cyber Monday
Independence Day: Panama from Spain in 1821; Mauritania from France in 1960
It's Letter Writing Day
Make Your Own Head Day
National French Toast Day
Red Planet Day
Turkey Leftover Day
ON THIS DAY: In 587 with the signing of the Treaty of Andelot, King Guntram of Burgundy recognized Childebert II as his heir. In 1520 Portuguese navigator Ferdinand Magellan reached the Pacific Ocean after passing through the South American strait that now bears his name. In 1811 Beethoven's Piano Concerto No. 5 in E-flat major, Op. 73, premiered at the Gewandhaus in Leipzig. In 1814 the Times of London became the first newspaper to be produced on a steam-powered printing press, built by the German team of Koenig & Bauer. In 1895 the first American automobile race took place over the 54 miles from Chicago's Jackson Park to Evanston, Illinois -- Frank Duryea won in approximately 10 hours. In 1909 Sergei Rachmaninoff made the debut performance of his Piano Concerto No. 3, considered to be one of the most technically challenging piano concertos in the standard classical repertoire. In 1919 Lady Astor was elected as a Member of the Parliament of the United Kingdom -- she was the first woman to sit in the House of Commons (Countess Markievicz, the first to be elected, refused to sit). In 1964 NASA launched the Mariner 4 probe toward Mars. In 1967 the first pulsar known as PSR B1919+21 in the constellation of Vulpecula was discovered by two astronomers Jocelyn Bell Burnell and Antony Hewish.

The problem with a four-day holiday weekend is that you have to go back to work. Whether it is Monday, like today, or Tuesday, the real world comes aknocking and you just cannot say "go away". Not if you want to be able to earn a living that is – sometimes I have to remind myself just how grateful I am to have a job that keeps me going in what is relative luxury compared to many. Not easy to do when you are worried about bills, especially around the holidays!




I guess that it is obvious I did NOT win the huge powerball this weekend, neh?

0 Comments

|

Add Comment

| Permalink | Monday, November 28, 2016

memories




Today is the 4th day of the 47th week, the 23rd day of the 11th month, the 328th day of 2016 [with only 31shopping days until Christmas], and:

Blackout Wednesday
Dr. Who Day – in 1963 the BBC broadcast the first episode of "An Unearthly Child" (starring William Hartnell), the first story from the first series of Doctor Who, which is now the world's longest running science fiction drama.
Eat a Cranberry Day
Fibonacci Day
International Image Consultant Day
National Cashew Day
National Espresso Day
National Family Caregivers Day
Repudiation Day (Frederick County, Maryland, United States)
Tie One On Day (Day Before Thanksgiving)
What Do You Love About America Day
ON THIS DAY: In 534 BC Thespis of Icaria becomes the first recorded actor to portray a character onstage. In 1644 John Milton published Areopagitica, a pamphlet decrying censorship. In 1765 the judges in Frederick County, Maryland became the first to repudiate the British Stamp Act, which was designed to maintain the costs of keeping British troops in America. In 1889 the first jukebox went into operation at the Palais Royale Saloon in San Francisco. 1954 the Dow Jones industrial average finally surpassed it's pre-crash high - 25 years after Black Tuesday - when it closed at 382.74. In 1976 Apneist Jacques Mayol was the first man to reach a depth of 100 m undersea without breathing equipment. In 1978 The Geneva Frequency Plan of 1975 went into effect, realigning many of Europe's longwave and mediumwave broadcasting frequencies. In 1992 the first smartphone, the IBM Simon, was introduced at COMDEX in Las Vegas, Nevada. In 1993 Rachel Whiteread won both the £20,000 Turner Prize award for best British modern artist and the £40,000 K Foundation art award for the worst artist of the year. In 2016 NASA Voyager is 19 hrs 04 mins 10 secs of light-travel time, NASA Voyager II is 15 hrs 42 mins 46 secs of light-travel time, and OSIRISREx is 52 million kilometers from Earth.

Did you know that when there are five Thursdays in November, Thanksgiving may not be on the last Thursday of the month? The earliest date for Thanksgiving is November 22 and the latest is November 28. Retailers do prefer an earlier date, of course, since it makes the holiday shopping season longer.

Thanksgiving was one holiday that I never cooked – tried it three times and it was an unmitigated disaster each time. No, Thanksgiving belonged to Grandmom Hughes -- as many as possibly could gathered at her table each year. There were three children with spouses, six grandchildren and three or more great-grandchildren, so there could be a LOT of folks there although we all didn't usually make it the same year. You could smell the cooking as soon as you pulled into the driveway and got out of the car! She always had a huge fresh turkey, and it is a miracle I guess that we all survived because she always had stuffed full with stuffing. There was also a fresh pork roast that I remember as falling off the bone, but somehow never dry. There was fresh sauerkraut and baked beans and green beans and mountains of mashed potatoes, homemade applesauce, slaw with Grandmom's dressing, and freshly baked rolls. I made bread for years, but I never did quite get the hang of those rolls! I have the table that was in her dining room and all the leaves – when fully extended it could seat 16 people. The kitchen table was the kid's table if there was overflow. Dinner was early enough that the men could be done before the football game came on, and they would eat and get up, headed for the television room and the smell of tobacco wafted out. The kids would get up and either head outside to play, or to the basement to play pool, or sprawl on the floor in the living room. The women would linger over the table for a bit just talking, then slowly the task of cleaning up would be started. By around 4PM everything was put away, the first game was over, and it was time for what my kids called "fun supper" – sandwiches and desserts. There was cake, pumpkin pie with cool whip, apple pie with ice cream and cookies. Then, after cleaning up, we would sit in the living room and talk and sing.

It has been 35 years now since Grandmom cooked Thanksgiving dinner. I still miss it.


0 Comments

|

Add Comment

| Permalink | Wednesday, November 23, 2016

another Monday




Today is the 2nd day of the 47th week, the 21st day of the 11th month, the 326th day of 2016 [with 33 shopping days until Christmas], and:

Alascattalo Day (about Alaska & humor)
False Confession Day
National Gingerbread Day
National Stuffing Day
No Music Day – celebrating a lack of noise pollution the day before St Cecilia's [the patron saint of music] feast day
Pumpkin Pie Day
World Hello Day
World Television Day
ON THIS DAY: In 164 BC Judas Maccabeus restored the Temple in Jerusalem -- as commemorated each year by the festival of Hanukkah [this year the Festival of Light is 12.24- 01.01]. In 1009 Lý Công Uẩn was enthroned as emperor of Đại CồViệt, founding the Lý dynasty. In 1877 Thomas Edison announced his invention of the phonograph, a machine that can record and play sound. 1905 Albert Einstein's paper, "Does the Inertia of a Body Depend Upon Its Energy Content?", was published in the journal Annalen der Physik [reveals the relationship between energy and mass, leading to the mass–energy equivalence formula, E = mc²]. In 1942 the completion of the Alaska Highway (also known as the Alcan Highway) was celebrated (however, the highway is not usable by general vehicles until 1943). In 1953 the Natural History Museum, London announced the "Piltdown Man" skull, initially believed to be one of the most important fossilized hominid skulls ever found, is a hoax. In 1995 the Dow Jones industrial average closed above 5,000 for the first time. In 1998 the Legend of Zelda: Ocarina of Time, one of the most successful and influential video games of all time, was released in Japan.



Monday – what can I say that hasn't been said before?

We are lucky enough to get the day after Thanksgiving off, a perk that I didn't have in my career until relatively recently. When I was working retail, of course, no one could take Black Friday off. In banking, that Friday was always a day when everyone with seniority or position would take leave/vacation and many times I was the designated officer on duty at different banks. Never bothered me too much to be on site back then as Frank was often working – so why not go to work? The only holiday Frank insisted on having off was Christmas Eve and Christmas Day and since he was senior man, he got it every year. There was some grumbling about that, but he would point out that was the only holiday he would reserve. The other holidays? We had them when the schedule fell that way otherwise he worked. See the police in Baltimore County had a rotation – five days on, two off, five days on, three off – and your days off were always fluctuating. Not only that, but your shifts fluctuated as well – 7– 3, 3-11, 11-7. The best arrangement was to have the three days off after the 11-7 shift so that you could catch up on your sleep easily, but it didn't always work out that way. We would work out the year in advance on the calendar carefully so we could make plans – vacations especially had to be timed just right between weekends off. Shift work was really hard on him – he never could get into a regular sleep pattern and I often wonder if that contributed to his health issues – and yet it seemed to work out better for the family than being on permanent 3-11 would've been. That was the worst shift – he was sleeping when I went to work, and by the time he would get home, I would be ready to go to bed. 11-7 worked out better – he could sleep while I was working and be ready to get up around the time we got home, and eating breakfast for dinner was a thing. No, we didn't miss that shift work one little bit when he retired! But it wasn't until after he was long gone that I started getting the day after Thanksgiving off.

I like it! Definitely makes Monday a bit easier....


0 Comments

|

Add Comment

| Permalink | Monday, November 21, 2016

work work work




Today is the 5th day of the 46th week, the 17th day of the 11th month, the 322nd day of 2016, and:

Beaujolais Nouveau Day
Electronic Greeting Card Day
Great American Smokeout
Homemade Bread Day
International Happy Gose Day -- celebrating one of the most popular sour beers; originated in Leipzig; disseminated worldwide
International Guinness World Records Day
International Students' Day
National Baklava Day
National Farm Joke Day
National Take a Hike Day
National Unfriend Day
Nouveau Beaujolais Day
Petroleum Day
The Little Mermaid Day
Use Less Stuff Day
World Pancreatic Cancer Day
World Peace Day
World Philosophy Day
World Prematurity Awareness Day
ON THIS DAY: In 474 Emperor Leo II died after a reign of ten months and is succeeded by his father Zeno, who becomes sole ruler of the Byzantine Empire. In 794 Japanese Emperor Kanmu changed his residence from Nara to Kyoto. In 1800 the US Congress held its first session in Washington DC, in the partially completed Capitol building. In 1858 – Modified Julian Day zero. 1869 the Suez Canal opened in Egypt, linking the Mediterranean and the Red seas. In 1970 the Soviet Union lands Lunokhod 1 on Mare Imbrium (Sea of Rains) on the Moon the first roving remote-controlled robot to land on another world. In 1978 the Star Wars Holiday Special aired on CBS, receiving negative reception from critics, fans, and even Star Wars creator George Lucas.



I went to work today.

Now wait a minute, that announcement isn't as trivial as it sounds! I got up this morning and started thinking. I have a cold, can barely talk, my eye is seeping, I am coughing and sniffling and no one at the office would've been surprised if I didn't show up – in fact, they might be grateful! [cue conversation about going to work sick]. Today is a simply gorgeous fall day, the kind you don't get very often in November – the sun is shining, there is a light breeze, the leaves still are colorful and it is going to be in the mid-60s. There is nothing that is time-sensitive on my desk today. And I have already scheduled to take tomorrow off. So, since I still have a couple of days of use-or-lose PTO, why not make it a four-day weekend? I stood at the balcony door and watched the sun come up. I fiddle-faddled online a bit . I looked in my closet for something to wear and started making a mental list of things I would rather do than go to work, which included straightening out my closet and figuring out what Christmas presents I had yet to buy [which isn't exactly going out and about in the beautiful weather, neh?]. I flipped a coin – heads I go, tails I stay – and it came up tails.

But I was not running a temperature [yes I took it] and in fact, I felt pretty energetic. So I had a long hard look in the mirror, gave myself permission to play hooky ….. and got ready for work. Somehow it just felt like cheating to stay home. I can rationalize it by saying in a small office like ours, one person just deciding not to be here unexpectedly impacts everyone else, which is perfectly true. But the fact of the matter is that I was taught once you agree to take a job, you do it – not when it is convenient for you, not when you feel like it, but when you are supposed to be at work. Day in and day out, disregarding aches/pains and angst, it's simply what working class people do. All. Their. Lives.


very inconveinent at times it is.....
0 Comments

|

Add Comment

| Permalink | Thursday, November 17, 2016

still have a choice




Today is the 4th day of the 46th week, the 16th day of the 11th month, the 321st day of 2016, and:

Geographic Information Systems Day
Have a Party With Your Bear Day
International Day for Tolerance
National Button Day
National Educational Support Professionals Day
National Fast Food Day
ON THIS DAY: in 1272, while travelling during the Ninth Crusade, Prince Edward became King of England upon Henry III's death, but he doesn't return to England for nearly two years to assume the throne. In 1686 representatives of Louis XIV of France and James II of England signed the Treaty of Whitehall (Treaty of American Neutrality) agreeing that Continental conflict would not disrupt peace and neutrality in New France and New England; prohibited each nation from fishing or trading in the other's territory, and also forbid each power from aiding Indian tribes who may be at war with the other. In 1822 Missouri trader William Becknell arrived in Santa Fe, New Mexico, over a route that became known as the Santa Fe Trail. In 1852 the English astronomer John Russell Hind discovered the asteroid 22 Kalliope. In 1855 David Livingstone became the first European to see the Victoria Falls in what is now present-day Zambia-Zimbabwe. In 1938 LSD was first synthesized by Albert Hofmann from ergotamine at the Sandoz Laboratories in Basel. In 1965 the Soviet Union launched the Venera 3 space probe toward Venus, which will be the first spacecraft to reach the surface of another planet. In 1959 the Rodgers and Hammerstein musical "The Sound of Music" opened on Broadway. In 1973 NASA launched Skylab 4 with a crew of three astronauts from Cape Canaveral for an 84-day mission. In 1974 the Arecibo message was broadcast from the Arecibo Radio Telescope in Puerto Rico -- it was aimed at the current location of the globular star cluster Messier 13 some 25,000 light years away, but the message will reach empty space by the time it finally arrives since the cluster will have changed position.

They didn't have the trenta cups at the Starbucks I go to this morning. So why did I drop my keys on the counter and look disgusted? Big deal – venti costs less, right? After all, after two days of no lemonade for my drink, they had gone to the store and gotten some. It wasn't me that they told they couldn't make her drink because they didn't have the powder. And I hadn't learned that there was no brown sugar for the oatmeal yet. I could make excuses – I didn't feel good, the line was moving very slow, etc – but the fact of the matter is my reaction made it clear that I was unhappy because my expectations have not been met.. I felt rather bad about not leaving the cashier in his usual upbeat, cheerful mood, and I will probably choose to be back there tomorrow spending money because it takes more than one incident to turn me off, but I have options if I don't want to return.

Last week, the day after the election, a lady I work near came up very perkily and asked how I was. "Been better" was my reply and when asked what was wrong, I told her Trump. She immediately walked away because my reaction made it clear I was unhappy. We spoke later – she is angry that more folks aren't as happy as she is over the results. "Give him a chance" she told me, and reminded me that "they" had put up with eight years of Obama. It sounded reasonable, and yet after a week of angry denials that he said/did something despite actual videos to the contrary, too little transparency [no tax returns, and a VP who will actually run things for him], too much negative rhetoric about walls and "them" and hate, topped off with a transition team I don't want anywhere near the bastions of power and I have to say that this president-elect has not met my expectations. But unlike Starbucks, I cannot simply stop interacting with the President of the United States – even if I lived in another country, the actions of this man will have an impact. I still have a choice; they aren't any easy ones and I doubt how much impact they will have, but such as they are, I will make them. I will not deny that he won the Electoral College while losing the popular vote and I will support the peaceful transfer of power. I will not pretend that the violation of norms is okay, even though political correctness makes my teeth ache at times, and I will continue to assert we are better together than marginalized. I will not condemn every single person who voted for Trump as a racist or deplorable, I will not unfriend anyone for simply disagreeing with me, and I will not be quiet.. I will wear a safety pin. I will register as a Muslim if something like that is somehow implemented even if I have to wear a badge, and encourage every single person I know to do the same. And I will vote every chance that I get.

And I will go on with life one day at a time, because that is what most of us do, neh?






Now excuse me, I need to go get a venti salted caramel mocha frappuccino double-blended.

0 Comments

|

Add Comment

| Permalink | Wednesday, November 16, 2016

calling Miss Manners....




Today is the 3rd day of the 46th week, the 15th day of the 11th month, the 320th day of 2016, and:

America Recycles Day
American Enterprise Day
Day of the Imprisoned Writer
George Spelvin or More Than One Role Day – a very important person in theater!
I Love to Write Day
Little Red Wagon Day
National Bundt (Pan) Day
National Clean Out Your Refrigerator Day
National Entrepreneurship Day
National Philanthropy Day
National Raisin Bran Cereal Day
National Spicy Hermit Cookie Day
Pack Your Mom's Lunch Day
Rock Your Mocs Day
ON THIS DAY: In 565 Justin II succeeded his uncle, Justinian I, as emperor of the Byzantine Empire. In 1533 Francisco Pizarro arrived in Cuzco, the capital of the Inca Empire. In 1777 the Second Continental Congress approved the Articles of Confederation, a precursor to the Constitution of the United States. In 1920 the first assembly of the League of Nations was held in Geneva, Switzerland. In 1971 Intel released the world's first commercial single-chip microprocessor, the 4004. In 1990 the space shuttle Atlantis launched on mission STS-38.

Category: you can't make this shit up

First incident: I have a cold, a bad one, and my voice is just about gone. Last night, I was in the elevator with two black women, dressed nicely, who were on either side of me. I looked up and moved further into my corner. They smirked at each other and then one said to me "we don't stink, you know. I did take a shower". I was stunned, and managed to croak out "no it isn't that. I have a bad cold and am trying not to breathe on anyone". They both looked very surprised, but it was obvious I was sincere [and sick]. As they got off, the other woman turned and told me that she hoped I felt better.

Second incident: the receptionist for the real estate management company where I work is Hispanic; she has lived here for decades, and is originally from El Salvador. This morning, a male lawyer walked in, leaned over her desk and asked her if she was packing up to go back to Mexico where she belongs. She looked up, and asked him if he was prepared to head back to his point of origin since it was plain he was not Native American. He muttered, realized that there were other people about, and walked away. .

I have been reading that many of the incidents reported after the election results are thought to have been made up. Those two black women assumed that as a white, I was somehow distancing myself from them because they were black. A LAWYER felt comfortable making a comment about deportation to a Hispanic woman. Now no one was hurt, no one was "threatened" or harmed in either of these incidents, but there is no doubt whatsoever in my mind that both directly attributable to folks feeling the change in civility throughout this political campaign and especially since 11.09.

Where is Miss Manners when you need her?


0 Comments

|

Add Comment

| Permalink | Tuesday, November 15, 2016

better together




Today is the 2nd day of the 46th week, the 14th day of the 11th month, the 319th day of 2016 [ there are only 40 shopping days left until Christmas], and:
International Girls Day
International Selfie Day (Diabetes Foundation)
Loosen Up, Lighten Up Day
National American Teddy Bear Day
National Pickle Day
National Spicy Guacamole Day
Operating Room Nurse Day
Spirit of National Speakers Association Day
World Diabetes Day – the birthday of Frederick Banting, who was the first to use insulin on humans
World Orphans Day
ON THIS DAY: In 1770 James Bruce discovered what he believed to be the source of the Nile. In 1851 Moby-Dick, by Herman Melville, was published in the USA. In 1889 Nellie Bly (aka Elizabeth Cochrane) began a successful attempt to travel around the world in less than 80 days; she completed the trip in 72 days. In 1910 Eugene Burton Ely did the first takeoff from a ship in Hampton Roads, Virginia, using a makeshift deck on the USS Birmingham. In 1967 Theodore Maiman got a patent for his ruby laser systems, the world's first laser. In 1969 NASA launched Apollo 12, the second crewed mission to the surface of the Moon. In 1971 Mariner 9 entered orbit around Mars. In 1972 the Dow Jones Industrial Average closed above 1,000 for the first time.

Well a week after the election, and we are all still struggling with the aftermath of the intense polarization: accusations are flying, friends are still having heated conversations, people are still crying, protestors have taken to the streets, petitions aimed at the Electoral College are being signed. Some of what is being said about the disappearing middle class resonates powerfully with me, which is why I am a #feeltheBern kind of person. Those stark red and blue electoral maps seem to speak to a divide that is totally profound and irreconcilable, but I take some comfort in the more nuanced mapping that shows much more blending.


But then again? I'm one of those who believes that we are better together, and trembles with fear at the very mention of "ethnostates" and "normalizing" the language and actions of exclusivity . I am still seesawing between panic and going on with life as we know it, between shouting to anyone who will listen that we have given the legendary strong man the keys to destroy democracy and diving into my 2nd Life and books to ignore the ugliness. Healing is needed, neh?

0 Comments

|

Add Comment

| Permalink | Monday, November 14, 2016

May you live in interesting times




Today is the 5th day of the 45th week, the 10th day of the 11th month, the 315th day of 2016, and:

Area Code Day
International Accounting Day
International Tempranillo Day
National Forget-Me-Not Day
National Vanilla Cupcake Day
NET Cancer Awareness Day
Sesame Street Day -- the 1st broadcast was on this day in 1969
USMC Day -- marking creation of the Corps as part of the US Navy in 1775
Windows Day -- Microsoft released its Windows computer operating system on this date in 1983; Windows 3.1, the version that would become popular in offices across the nation, was released almost nine years later
World Science Day for Peace and Development
World Usability Day
AND it is the 2nd day after the US Presidential election. For the first time in my life, I actually cried when the results came in. For the first time in my life I am literally frightened, and unable to take a "we'll see" stance. I watched Nixon, Reagan, and two Bushes take office and didn't have this level of concern – but then again, they didn't SAY the kind of horrible things that this candidate has either. I actually sought out a woman I know who voted for Trump and begged her to tell me something positive about him, tell me why she was so happy with the outcome. Her reply was simply that once he got into the Oval Office, he would understand that those kind of shenanigans wouldn't fly anymore. Mind you, I didn't like Hillary, didn't like her back in when she was 1st Lady, didn't trust her, didn't believe in her – so I am not particularly upset that she lost, but I am just so frightened about this "whitelash" that I feel almost paralyzed. I am dismayed at the way the US looks to the world and worried that when his time to get voted out comes, he will refuse to leave. I am scared not just of his volatility, but about the unknown agendas of his "handlers" who control him [the story about his twitter account being taken away was NOT amusing, who ARE these people?]

Trump was right about one thing – the system IS rigged in favor of the rich and powerful and always has been. We forget that we live in a republic, not a democracy, neh? The Electoral College, with 583 electors [based on Congressional representation] needs to be revamped. Currently all states, except for Maine and Nebraska, have chosen electors on a "winner-take-all" basis since the 1880s – and that results in someone who only took 47.88% of the votes cast getting 56.88% of the electoral votes and becoming president-elect even when the popular vote is actually showing his opponent ahead by 202,340 votes.

But the real story of this election?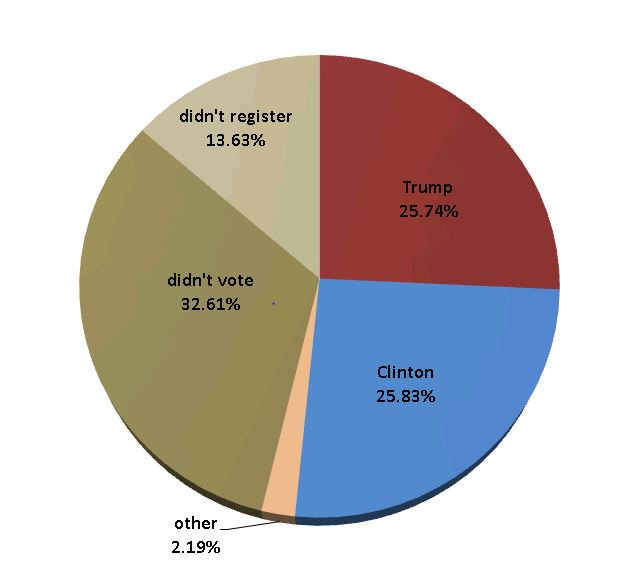 Why didn't 46.23% of the population vote? According to the US Elections Project the total estimated eligible voting population is 231,556,622 people. The total estimated registered voters is 200,000,000 or 86.37% of those eligible. According to GOOGLE, updated Nov 10, 2016 9:29 AM EST, the total estimated number of ballots cast this election was 124,497,418 or 53.77% of those eligible to vote.

The main reasons I have heard for not voting:

· Not convenient– this is the first election since the Supreme Court ruled against the Voting Rights Act in 2013, which led to the closing of over 800 polling places across the country in the name of budgetary constraints. Lines were long. Polls opened late and in some cases closed early.
· Cannot vote or register -- stricter ID requirements for voters in multiple states have been enacted since 2013 as well
· Couldn't get off from work– not every state had early voting and not every state that did had weekend hours available. Especially if you are holding down two jobs, I can see where the scheduling could get dicey. My solution would be to make Election Day a paid federal holiday.
· Didn't feel like there was much of a choice
· My vote doesn't make a difference-- In multiple states, victories came down to fewer than 10,000 votes, which truly sheds light on just how valuable those missing votes might have been for either of the major party candidates. It's also a reminder of just how valuable your vote is in picking who runs this country — and how important it is everyone remembers to vote in 2018 and 2020.
So, in the end, about 26% of the population just chose the resident of the most powerful office in the country.

And now we all have to live with it.

0 Comments

|

Add Comment

| Permalink | Thursday, November 10, 2016

time to fall back....

0 Comments

|

Add Comment

| Permalink | Saturday, November 5, 2016

when you wish




Today is the 6th day of the 44th week, the 4th day of the 11th month, the 309th day of 2016 [with only 50 shopping days until Christmas], and:

King Tut Day
Love Your Lawyer Day
National Candy Day
National Chicken Lady Day
National Medical Science Liaison Awareness and Appreciation Day
National Skeptics Day
National Waiting for the Barbarians Day
Punkin Chunkin -- thru the 6th
Use Your Common Sense Day
ON THIS DAY: in 1429, during the Armagnac–Burgundian Civil War, Joan of Arc liberated Saint-Pierre-le-Moûtier. In 1783 Wolfgang Amadeus Mozart's Symphony No. 36 was performed for the first time in Linz, Austria. In 1847 Sir James Young Simpson discovered the anesthetic properties of chloroform. In 1880 the first cash register was patented by James and John Ritty of Dayton, Ohio. In 1879 Thomas Edison filed a patent for his incandescent electric lamp (Note: Joseph Swan had already patented an incandescent light in Britain the previous year). In 1890 London's first deep-level tube railway opened between King William Street and Stockwell. In 1922 British archaeologist Howard Carter and his men found the entrance to Tutankhamun's tomb in the Valley of the Kings. In 1939 air-conditioning was first offered as an option for automobiles by Packard Motor Car Company for $274 (in today's currency that would be $4,759.08). In 1960, at the Kasakela Chimpanzee Community in Tanzania, Dr Jane Goodall observed chimpanzees creating tools, the first-ever observation in non-human animals. In 1973 the Netherlands experienced the first Car-Free Sunday caused by the 1973 oil crisis -- highways are used only by cyclists and roller skaters. In 2001 the first movie based on the best-selling "Harry Potter" books by JK Rowling premiered in London.

And it is FRIDAY – best night of the week when the entire glorious weekend stretches out before you! ((yes I know not everyone's weekends are Saturday and Sunday)). Most of us are living from one break to another, working and waiting for that time when we can pretend that our time is our own as we blithely ignore chores and running errands and activities with the kids and family stuff

In short? We wish our lives away all during the week.

Now I know that some are fully invested in their work and are doing things that they love and are absolutely happy with the workaday world – and I have listened for years as the pundits tell us that you should follow your passions and make your play your work. Fact of the matter is that there is a lot of stuff that has to be done, and while I would never advocate staying in a place doing something you actively hate if you have an option to make a living elsewhere, I have learned to accept the reason it is work is because there is stuff that has to be done whether or not that stuff is fun or loveable. I suspect that I am in the majority with that – working for a living not living to work. Unlike those who have a vocation, my identity does not depend on my job but resides elsewhere. I sell time to my employer and try to give the organization fair value. The old social contract where organizations saw their employees as their most valuable asset and took care of them is long gone – it is a simple economic exchange now: I work you pay me. I don't work, you don't pay me. You don't pay me, I don't work. Don't you be trying to horn in on hours I didn't sell to you!

*stops and takes a deep breath* sorry, got a little side tracked there!

My point is that we are wishing our lives away. Every time we sigh and think "I wish it was lunch time" or "I wish this work day was over" or "I wish tomorrow would get here" or "I wish it was Friday" or"I wish I was grown up" or"I wish winter was over" or "I wish I was retired", we are actually wishing our lives away instead of actually living. We only have a finite number of minutes alloted to us and we have no way of knowing just how many we have been given, so why wish them away? It is something that I definitely need to work on….


0 Comments

|

Add Comment

| Permalink | Friday, November 4, 2016

who are you, really?




Today is the 5th day of the 44th week, the 3rd day of the 11th month, the 308th day of 2016, and:

Cliché Day
Give Someone a Dollar Today Day
Independence day: Panama from Colombia in 1903; Dominica from the United Kingdom in 1978; the Federated States of Micronesia from the United States in 1986
National Housewife Day -- I don't remember this being a holiday back when I was a stay-at-home Mom. And for the record? I think "domestic engineer" is a really silly term!
National Men Make Dinner Day -- Must Cook. No BBQ Allowed! -- I must say this stereotype is somewhat dated; I know three men who are excellent cooks and they prepare meals on a regular basis
National Sandwich Day
Public Television Day
Sandwich Day -- the birthday of John Montagu, the fourth Earl of Sandwich.
SOS Day
Stout Day ((the drink not the body type))
ON THIS DAY: In 361 Emperor Constantius II died of a fever at Mopsuestia in Cilicia, on his deathbed he is baptised and declared his cousin Julian the rightful successor. In 1534 the English Parliament passed the first Act of Supremacy, making King Henry VIII head of the Anglican Church, supplanting the pope and the Roman Catholic Church. In 1592 the city of San Luis Potosí [AKA SLP or simply San Luisis] was founded in Mexico. In 1838 the Times of India, the world's largest circulated English language daily broadsheet newspaper was founded as The Bombay Times and Journal of Commerce. In 1954 the first Godzilla film is released, marking the first appearance of the iconic monster. In 1957 the Soviet Union launched Sputnik 2 carrying the first animal to enter orbit, a dog named Laika [who died within hours from overheating]. In 1964 Washington DC residents were able to vote in a presidential election for the first time. In 1973 NASA launched the Mariner 10 toward Mercury; on March 29, 1974, it becomes the first space probe to reach that planet.

Every single social media site starts with asking you to fill out a profile to introduce yourself, telling the site's community and the world who you are. It is a simple enough task at first glance, but surprisingly difficult to do accurately. Some of it depends on who you are describing yourself to – a professional profile on LinkedIn or your company website is going to be a bit different from what you might have to say on a dating or gaming site or Facebook or Twitter. But the basic question is the same: how do you describe yourself? What words do you use?

Do you talk about your being and how you see yourself? All positive words or add some negatives so you sound realistic and don't seem like bragging? Do you mention depression or OCD or introvert or multiple personalities?

Do you give a physical picture? Gender? Do you have to mention whether or not it is what you were born as? Height? Do you give the actual height or just say short? Body type? So how many positive ways can you say overweight and unrepentant? Hair color? The current shade and whether or not it is "natural"? Skin tone? What kind of shape you are in? How about medical issues or disabilities?

Do you discuss your roles? Mother, daughter, grandmother, Roman Catholic, worker bee, cousin, author, gamer, baby boomer, techie, manager, speaker, pack rat, Democrat or Republican or don't give a hoot?

Do you list your interests? Hobbies, fandoms, activities, theories, passions? Is this where you talk about how many books you still have in your library, or just how long you have been "into" science fiction and fantasy? Do you mention that it is a life goal to be able to live close enough Orlando to be able to justify [and afford] annual passes to WDW and/or Hogwarts?

Words matter and since every activity has a consequence, what you put out there matters too…..


0 Comments

|

Add Comment

| Permalink | Thursday, November 3, 2016

a song in the heart and on the lips




Today is the 4th day of the 44th week, the 2nd day of the 11th month, the 307th day of 2016:

All Souls' Day
Cookie Monster Day
International Day to End Impunity for Crimes Against Journalists
Look for Circles Day
National Deviled Egg Day
National Eating Healthy Day
National Traffic Professionals Day
Plan Your Epitaph Day
Practice Being Psychic Day
ON THIS DAY: In 619 a qaghan of the Western Turkic Khaganate was assassinated in a Chinese palace by Eastern Turkic rivals after the approval of Tang emperor Gaozu. In 1671 Intendant Jean Talon opened the King's Brewery, Québec City's first brewery. In 1868 New Zealand officially adopted a standard time to be observed nationally. In 1898 cheerleading was started at the University of Minnesota with Johnny Campbell leading the crowd in cheering on the football team. In 1947 Howard Hughes piloted his huge wooden airplane, the Spruce Goose, on its only flight, which lasted about a minute over Long Beach Harbor in California. In 1959 Charles Van Doren admitted to a House subcommittee that he had the questions and answers in advance of his appearances on the TV game show "Twenty-One." In 1960 Penguin Books was found not guilty of obscenity in the trial R v Penguin Books Ltd, the Lady Chatterley's Lover case. In 1988 the first Internet Worm was released by Robert Morris, Jr., a Cornell graduate student -- Morris also received the first felony conviction in the US under the 1986 Computer Fraud and Abuse Act although he claimed he wasn't trying to do any harm, it was just an experiment gone wrong.

I never really learned to recite poetry, instead I learned a multitude of song lyrics. Singing ran deep in our family – Grandmom Hughes was the daughter of a Welsh coalminer and that family would sing as quickly as talk. I remember Sunday afternoons, after the dinner dishes were done and before desert [or fun supper as my kids knew it], while the menfolk were in the other room watching sports, smoking, and/or napping, and the kids were playing elsewhere, we would be sitting around talking, and if the conversation died away, Grandmom would just start singing and we would join in [ "You are my sunshine" was Aunt Blanche's favorite song]. I sang while walking to school, while taking a bath, while doing chores – sometimes at a considerable volume. I sang with the school chorus and in the church choirs. I didn't have a great voice and never got picked to do a solo, but my voice was strong and clear with a three-octave range and I had almost perfect pitch.

Never learned to read music though, I sang by ear. I went for a tryout one year at Towson and the choir director was very dismissive – when he handed me a sheet of music and told me to sing, I admitted that I had never heard that piece and couldn't read music. He made the mistake of asking why I thought I could sing with them if I couldn't even read my part -- I pointed at the piano and told him if he played the melody, I would sing the song and he immediately started, and I did. Even when he added embellishments, once I had the melody I could hear it and half way through he stopped and told me I was in, but that I was never to tell anyone else that I couldn't read the music.

When my kids were growing up singing was part of their lives as well -- we sang when playing, while driving in the car, while taking a bath. Every night each kid had their own lullaby -- my son's was Wynken, Blynken and Nod and my daughter's was Puff the Magic Dragon. When my son went off to the Navy, he took with him a cassette tape we recorded of us singing together, one side had the fun songs like Star Trekkin' and I love Trash and Found a Peanut. and the other side was our favorite Christmas carols.

In the mid-80's Grandmom died, and it was a while before I felt like singing again, only the lullabies remained constant. Then when Frank died, the cone of silence descended as I learned to live alone. It has only been recently that I have tried to sing again and I hardly recognize my voice anymore. No longer clear, it quavers, the pitch is often off, there is no range, and I cannot sustain a note. In short, I find it difficult to listen to myself. Despite that, I sing now and then when around my granddaughters – the toddler's song is the Unicorn Song and I have been singing Don't let the rain come down to the baby – but I find it difficult.

Maybe my voice will come back – I hope so because singing is an essential part of what makes me "me".


0 Comments

|

Add Comment

| Permalink | Wednesday, November 2, 2016

head for the hills




Today is the 3rd day of the 44th week, the 1st day of the 11th month, the 306th day of 2016 [with only 53 shopping days left until Christmas], and:

All Saints Day or Dia de Los Muertos
Autistic Speaking Day
Extra Mile Day
Give Up Your Shoulds Day
Hockey Mask Day
National Author's Day
National Brush Day
National Deep Fried Clams Day
National Family Caregiver Day
National Family Literacy Day
National Go Cook For Your Pets Day
National Vinegar Day
Prime Meridian Day
World Vegan Day
ON THIS DAY: In 365 the Alemanni crossed the Rhine and invaded Gaul. In 996 Emperor Otto III issued a deed to Gottschalk, Bishop of Freising, which is the oldest known document using the name Ostarrîchi (Austria in Old High German). In 1512 the ceiling of the Sistine Chapel, painted by Michelangelo, was exhibited to the public for the first time. In 1520 the Strait of Magellan, the passage immediately south of mainland South America connecting the Pacific and the Atlantic Oceans, was first discovered and navigated by European explorer Ferdinand Magellan during the first recorded circumnavigation voyage. In 1555 French Huguenots established the France Antarctique colony in present-day Rio de Janeiro, Brazil. In 1604 Shakespeare's tragedy Othello was performed for the first time, at Whitehall Palace in London. In 1611 Shakespeare's play The Tempest was performed for the first time, at Whitehall Palace in London. In 1870, in the United States, the Weather Bureau (later renamed the National Weather Service) made its first official meteorological forecast. In 1896 a picture showing the bare breasts of a woman appeared in National Geographic magazine for the first time. In 1941 American photographer Ansel Adams took a picture of a moonrise over the town of Hernandez, New Mexico that would become one of the most famous images in the history of photography. In 1950 Pope Pius XII claims papal infallibility when he formally defined the dogma of the Assumption of Mary. In 1944 Harvey by Mary Coyle Chase opened in New York. In 1952, the US exploded the first hydrogen bomb in a test at Eniwetok atoll in the Marshall Islands. In 1963 the Soviets announced the successful launching and operation of their Polyot I, the first maneuverable unmanned satellite. In 1982 Honda became the first Asian automobile company to produce cars in the United States with the opening of its factory in Marysville, Ohio; a Honda Accord was the first car produced there.

As this "terrible, horrible, no good, very bad" election campaign continues, I find reading the commentary from other countries an interesting and humbling exercise. Without realizing it, I assumed the US had some sort of high ground internationally. Of course, we are the only country to drop not one but two atom bombs, and we exploded the first hydrogen bomb, but like the old song says "first we got the bomb and that was good 'cause we love peace and motherhood." From the stalwart pilgrims to the noble frontiersmen, to the rollicking cowboys, to the energetic tycoons – I felt without articulating it that the US was somehow different than everyone else. Sure learning about how the indigenous peoples were treated, the horrors of slavery and the Vietnam war told me that my country was not perfect, but no one is perfect. I always felt "WE" all really understood what democracy and freedom should be and were working towards that goal and I looked askance at the turmoil of other countries' transfers of power with just a tinge of smugness, because after all, it couldn't happen here.

Well I guess everyone feels the same way – it cannot happen here, it won't happen to them. Until it does. After all, "no one expects the Spanish Inquisition", neh? Me? I'm going back to living a 2nd Life and burying myself in books.


0 Comments

|

Add Comment

| Permalink | Tuesday, November 1, 2016

Samhain




Today is the 2nd day of the 44th week, the 31st day of the 10th month, the 305th day of 2016, and:

Beggars' Night
Books for Treats Day
Carve a Pumpkin Day
Day of the Seven Billion
Girl Scout Founder's Day
Halloween or All Hallows Eve
National Caramel Apple Day
National Increase Your Psychic Powers Day
National Knock Knock Jokes Day
National Magic Day
Reformation Day
Samhain
Scare a Friend Day
Sneak Some of the Candy Yourself Before the Kids Start Knocking Day
Trick-or-Treat for UNICEF Day
World Cities Day
World Savings Day
ON THIS DAY: In 475 Romulus Augustulus was proclaimed Western Roman Emperor. In 1517 Martin Luther posted his 95 Theses on the door of the Castle Church in Wittenberg. In 1913 the Lincoln Highway, the first automobile highway across United States, was dedicated. In 1923 it was the first of 160 consecutive days of 100° Fahrenheit at Marble Bar, Western Australia. In 1926 magician Harry Houdini died of gangrene and peritonitis that develops after his appendix ruptures. In 1938, the day after his "War of the Worlds" broadcast had panicked radio listeners, Orson Welles expressed "deep regret" but also bewilderment that anyone had thought the show was real. In 1941, after 14 years of work, Mount Rushmore was completed. In 2000 Soyuz TM-31 launched, carrying the first resident crew to the International Space Station, which has been crewed continuously since then. In 2011 the global population of humans officially reached seven billion.

My memories of Halloween as a kid are of roving groups of kids running through the neighborhood, knocking on doors and jostling each other to grab treats as soon as dusk fell. The little kids would come out first and the groups would get progressively older as the night wore on. I don't remember there being a lot of parents out there with us. I do remember that we used to get home fairly early and I would dump out my "take" to be recycled and given out. The unwrapped candy was usually thrown out, not because we were worried about it but because it was unsanitary -- back then we were just starting to hear things about razor blades in apples and the like, but we still got invited into some house and ate cupcakes and drank cider or hot chocolate if it was a cold night. In later years it was more fun to dress up and give the candy out, and no matter how much we bought, it seemed to run out before the trick-or-treaters did, and we would turn off the light and stop answering the door.

By the time I was a parent, things had already changed and my kids never went running through the night, squealing as they ran into other kids, comparing costumes and giving tips on where the best treats were to be found. We went to the mall to trick-or-treat [not sure stores do that anymore], and to parties.

And nowadays, I don't even answer the door or give out candy. But I usually do kinda dress up, wearing Halloween themed outfits, or western garb, or even mouse ears to work...


0 Comments

|

Add Comment

| Permalink | Monday, October 31, 2016

a new life




Today is the 5th day of the 43rd week, the 27th day of the 10th month, the 301st day of 2016 [I don't want to know how many days I have left to get ready for Christmas], and:

American Beer Day
Boxer Shorts Day
Cranky Co-Workers Day
Independence Day: Saint Vincent and the Grenadines from United Kingdom in 1979, and Turkmenistan from USSR in 1991
National Potato Day
Navy Day
Occupational Therapy Day
World Day for Audiovisual Heritage -- chosen by UNESCO in 2005 to raise of awareness of the significance of and preservation risks of recorded sound and audiovisual documents (films, sound and video recordings, radio and television programs)
ON THIS DAY: In 312 Constantine the Great is said to have received his famous Vision of the Cross. In 1275 tradition has it the city of Amsterdam was founded. In 1682 Philadelphia, Pennsylvania was founded. In 1904 the first underground New York City Subway line opened; the system became the biggest in United States, and one of the biggest in world. In 1936 Mrs Wallis Simpson obtained her divorce decree nisi, which would eventually allow her to marry King Edward VIII of the United Kingdom, thus forcing his abdication from the throne. In 1947 "You Bet Your Life," starring Groucho Marx, premiered on ABC Radio. In 1961 NASA tested the first Saturn I rocket. In 1973 a 1.4 kg chondrite-type meteorite struck Cañon City, Colorado. In 1986 the British government suddenly deregulated financial markets, leading to a total restructuring of the way in which they operate in the country, in an event now referred to as the Big Bang. In 1994 Gliese 229B was the first Substellar Mass Object [an object orbiting another star] to be unquestionably identified. In 1997 the Dow Jones industrial average tumbled 554.26 points, forcing the stock market to shut down. In 2005 surgeons in France performed the world's first partial face transplant on a woman who was mauled by a dog.

And, 39 years ago today, I became a mother for the second time.

Back then, we didn't get ultrasounds before the baby was born unless there was some sort of problem, so I had no idea whether I was carrying a boy or a girl. The question after "when are you due" was always "do you want a girl or a boy" and the answer was the same "I don't care as long as the baby is healthy." Folklore said that if you carried the baby low, then it was a girl – I was amused to learn that observation has a basis in fact. You see, as males age, their semen tends to have more X than Y chromosomes, so a later child tends to be female. And if a woman has had a baby already, her muscles are pre-stretched and she tends to carry lower – so the usual combo of older father and second child gave rise to that tidbit of folklore wisdom. I will admit that I felt I was carrying a girl in the last trimester ((and was quietly worried – my relationship with my mother and her's with her mother were both dysfunctional and I didn't want to continue that for another generation)). But we decorated the nursery in a nice neutral bright yellow, although when we went to paint the heavy room door, despite all the coats of sealer, it kept turning a light delicate pink, which we chose in retrospect to accept as foreshadowing the birth of a daughter. I can still remember Uncle Erf shaking his head when he heard it was a girl and sighing "rich man's family". Took a bit before I realized what he meant; many of the things that I had saved from my son's infancy just wasn't going to work for this baby.

Another piece of folklore is that any baby who is due, past due or going to come early is going to arrive either at the full moon or the new moon. Many scientists and doctors have very emphatically debunked this as a myth, but my grandmother as a pediatric nurse used to say they always ramped up staffing at those times. All I can go by is my own observation My son was two weeks past due and arrived at the full moon; my daughter was a couple days early and arrived at the new moon. Both times when I was in the labor room, I was the only person there. A few hours later when I moved into the recovery room [I had very short labors], all the labor rooms were full, and by the time I got to my hospital room, the staff was scurrying to find beds for those coming to the maternity ward after me..

These are the kinds of things a mother thinks about when wishing a child happy birthday!




0 Comments

|

Add Comment

| Permalink | Thursday, October 27, 2016