Carol H Tucker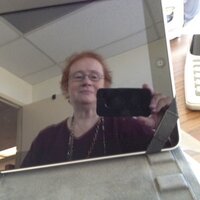 Passionate about knowledge management and organizational development, expert in loan servicing, virtual world denizen and community facilitator, and a DISNEY fan



Contact Me




Subscribe to this blog
beladona Memorial

Be warned:in this very rich environment where you can immerse yourself so completely, your emotions will become engaged -- and not everyone is cognizant of that. Among the many excellent features of SL, there is no auto-return on hearts, so be wary of where your's wanders...


Navigation Calendar
Days with posts will be linked
Most Recent Posts





Today is the 4th day of the 43rd week, the 23rd day of the 10th month, the 296th day of 2019, and:

Event Organizers Day
International Print Day
Lung Health Day
Medical Assistants Recognition Day
National Boston Cream Pie Day ((I was in elementary school when I first tasted this treat; it became and remains my very favorite kikd of cake or pie))
National Canning Day
National Croc Day
National iPod Day – Apple released the iPod in 2001
National Mole Day
National Slap Your Irritating Co-Worker Day
Paralegal Day
Swallows Depart from San Juan Capistrano Day
TV Talk Show Host Day
Unity Day
ON THIS DAY IN ...

1760 - First Jewish prayer books printed in North America

1775 - Continental Congress approves resolution barring blacks from army ((so much for liberty and equality for all))

181 -3 The Pacific Fur Company trading post in Astoria, Oregon is turned over to the rival British North West Company (the fur trade in the Pacific Northwest was dominated for the next three decades by the United Kingdom).

1814 - the first plastic surgery is performed (England) ((I included this but couldn't verify it, indeed, if you google the topic you'll find that cosmetic surgery has been performed throughout human history))

1819 - the first ship sails through the Erie Canal from Rome, New York to Utica, New York

1910 - Blanche Scott becomes the first woman to fly at a public event in the US at Fort Wayne, Indiana.

1915 - the first national horseshoe throwing championship (Kellerton, Iowa)

1933 - John Dillinger and his gang rob Central National Bank, in Greencastle, Indiana. They take $75,000 [equal to $1,438,356.87 in 2019]

1934 - Jean Piccard & Jeanette Ridlen attain balloon height of 17.341 m (rec)

1941 - Walt Disney's animated film "Dumbo" released

1958 - USSR lends money to UAR to build Aswan High Dam

1958 - The Smurfs first appear in the story "Johan and Pirlouit" by Belgium cartoonist Peyo

1961 - USSR performs nuclear test at Novaya Zemlya USSR

1964 - Time Magazine uses term "op art" for 1st time ((do you remember those psychedelic design pictures from the late 1980's that you had to cross your eyes to see the 3-D picture they depicted?))

1972 - "Pippin" opens at Imperial Theater NYC for 1944 performances

1972 - Access credit cards introduced in Great Britain

1977 - Paleontologist Elso Barghoorn announces discovery of a 3.4-billion year old one-celled fossil, one of the earliest life forms on Earth

1981 - US national debt hits $1 trillion ((38 years later, as of June 2019, federal debt held by the public was $16.17 trillion and intragovernmental holdings were $5.86 trillion, for a total national debt of $22.03 trillion.))

1984 - STS 51-A launch vehicle moves to launch pad

1987 - France performs nuclear test at Mururoa atoll

1987 - US performs nuclear test at Nevada Test Site

1989 - US 62nd manned space mission STS 34 (Atlantis 5) returns from space

2009 - The United Nations "Rotterdam Rules" convention regulating international maritime carriage of goods is ratified with its twentieth signature.

2018 - Microplastics found in human stools for the first time by Austrian scientists

2018 - World's oldest intact shipwreck, ancient Greek vessel 2,400 years old, found at bottom of the Black Sea by archaeologists

My friend and I went to see Everybody this past weekend – an old morality play where God wants Death to deliver to Him Somebody to explain what they have been doing with their lives. In the end, Everybody got Death's okay to bring Somebody along, but only gets to take Love and Every Shitty and Evil Thing You Ever Did with them into the afterlife to give a presentation to God about what living was about – nothing else wants to come along, not friends nor family nor stuff nor even Mind and Understanding make that final trip into the unknown.

Now the fact that they stripped Everybody of mind and understanding surprised me in retrospect. In many ways, I consider my ability to think and to comprehend as part of my spirit, or the essence that makes me "me", or my soul if you wish. Certainly if there is to be an afterlife in any way, shape, or form, my spirit or essence or soul would be what would be in residence, neh?




I always wanted to leave a Carol-sized hole in the world when I left it, but in my self-centered hubris, I hadn't realized that it would only be the size of a single, tiny grain of sand – a thought that is both humbling and comforting as I get older.

0 Comments

|

Add Comment

| Permalink | Wednesday, October 23, 2019