Carol H Tucker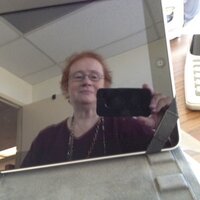 Passionate about knowledge management and organizational development, expert in loan servicing, virtual world denizen and community facilitator, and a DISNEY fan



Contact Me




Subscribe to this blog
beladona Memorial

Be warned:in this very rich environment where you can immerse yourself so completely, your emotions will become engaged -- and not everyone is cognizant of that. Among the many excellent features of SL, there is no auto-return on hearts, so be wary of where your's wanders...


Navigation Calendar
Days with posts will be linked
Most Recent Posts





Today is the 3rd day of the 39th week, the 24th day of the 9th month, the 267th day of 2019, and:

Festival of Latest Novelties
Gallbladder Good Health Day
Innergize Day – for all you folk who want a reason to take a mental health day off
Kiss Day – yes another one if you missed February 13th
National Bluebird of Happiness Day
National Cherries Jubilee Day
National Familial Hypercholesterolemia Day
National Punctuation Day
National Voter Registration Day– If you haven't registered, please do so. If you have? Please verify your registration is current.
National Woman Road Warrior Day
ON THIS DAY IN ...

1493 - Christopher Columbus embarks on his second expedition to the New World, setting sail with a fleet of 17 ships

1657 - first autopsy and coroner's jury verdict is recorded in Maryland

1852 - Henri Giffard, a French engineer, makes first engine powered dirigible/airship flight with steam power

1853 - first round-the-world trip by yacht by Cornelius Vanderbilt

1889 - Alexander Dey patents dial time recorder

1951 - USSR performs nuclear test

1952 - American fast food restaurant chain "KFC" [Kentucky Fried Chicken] opens its first franchise in Salt Lake City, Utah

1958 - first welded aluminum girder highway bridge completed in Urbandale, Iowa

1960 - USS Enterprise, first nuclear power aircraft carrier, launched

1964 - first Minuteman II ICBM was tested

1966 - France performs nuclear test at Fangataufa Island

1968 - US performs nuclear test at Nevada Test Site

1970 - Soviet space probe Luna 16 lands on earth after first unmanned round trip to moon

1978 - USSR performs underground nuclear test

1979 - CompuServe began operation as first computer information service

1979 - USSR performs nuclear test at Novaya Zemlya USSR

1981 - US performs nuclear test at Nevada Test Site

1983 - USSR performs underground nuclear test

1987 - US performs nuclear test at Nevada Test Site

2015 - Pope Francis becomes the first pope to address the US Congress. Names Abraham Lincoln, Martin Luther King, Thomas Merton and Dorothy Day as his American heroes.

2017 - Plastic polystyrene rubbish discovered for first time only 1,000 miles from the north pole by international team of scientists

2019 - NASA Voyager is 20 hrs 23 mins 34 secs of light-travel time from Earth



Writing prompt for the day: "For a moment today, time stands still — but you can tweak one thing while it's stopped. What do you do?"



Well I am going to assume that one cannot change the past – so no going back and wiping out something you regret or setting yourself up to succeed. Plus you cannot do something like grant yourself the winning lottery ticket because you don't have today's number. No, it has to be something that you can do right now. And I know what I would change – I would take my daughter's pain away.



You see, she won the war against cancer – she defeated stage 3C breast cancer. But as she puts it, she won the battle and now she has to live with the battlefield – a body that for two years was deliberately and systematically poisoned, radiated, and mutilated. Her body and her mind have been unbearably battered, and she pays the price every single hour of every single day as she tries to come back to health and well-being. So if time stopped, if between one breath and the next, I could take away her pain I would.








But I can't. All I can do is admire her indomitable and gamin spirit as she continues to get up and faces each and every day

0 Comments

|

Add Comment

| Permalink | Tuesday, September 24, 2019