Carol H Tucker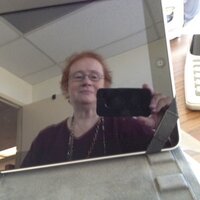 Passionate about knowledge management and organizational development, expert in loan servicing, virtual world denizen and community facilitator, and a DISNEY fan



Contact Me




Subscribe to this blog
beladona Memorial

Be warned:in this very rich environment where you can immerse yourself so completely, your emotions will become engaged -- and not everyone is cognizant of that. Among the many excellent features of SL, there is no auto-return on hearts, so be wary of where your's wanders...


Navigation Calendar
Days with posts will be linked
Most Recent Posts

thinking about thinking about moving




Today is the 5th day of the 29th week, the 18th day of the 7th month, the 199th day of 2019, and:

Get to Know Your Customers Day
National Caviar Day
National Sour Candy Day
Nelson Mandela International Day
Perfect Family Day
On this day in ...

1178 - Five monks at Canterbury report something exploding on the moon shortly after sunset (only known observation)

1583 - Richard Martin of London takes out first life insurance policy, on William Gibbons; premium was £383

1767 - Samuel Wallis, an English sea captain, sights Tahiti, considered the first European to reach the island

1898 - the first amusement pier opens in Atlantic City, New Jersey

1928 - American aviator Amelia Earhart becomes the 1st woman to fly across the Atlantic Ocean landing at Burry Port, Wales

1948 - American Library Association adopts Library Bill of Rights, which states "Libraries should provide points of view on current and historical issues. Materials should not be proscribed or removed because of partisan or doctrinal disapproval."

1959 - the first telecast transmitted from England to US

1972 - US Supreme Court, 5-3, confirms lower court rulings in Curt Flood case, upholding baseball's exemption from antitrust laws

1977 - Space Shuttle test model "Enterprise" carries a crew aloft for 1st time, it was fixed to a modified Boeing 747

1980 - Mrs Shakuntala Devi mentally multiplies 2 13-digit #s in 28 sec

1983 - the 7th Shuttle Mission-Challenger 2 launches Sally Ride as 1st US woman in space

1989 - Comet Churyunov-Gerasimenko at perihelion

2003 - Google launches AdSense, a program that enables website publishers to serve ads targeted to the specific content of their individual web pages, many of which like On This Day (then HistoryOrb.com) go on to start their own publishing businesses

2015 - Pope Francis blames human selfishness for global warming in his encyclical, named "Laudato Si (Be Praised), On the Care of Our Common Home"

2016 - Soyuz capsule returns to Earth the first British International Space Station astronaut Tim Peake, Russian Yuri Malenchenko and American Timothy Kopra after 186 days

2018 - President Trump orders US military to set up sixth branch of the military - a space force

2019 NASA Voyager is 20 hrs 10 mins 55 secs of light-travel time from Earth

Quote of the day:
"Nothing exists separate from all the other things in the universe. Every person lives only by relying on the support of others."
~ Jeff Wilson, "Born Together With All Beings"

Moving is a major undertaking, and for those of us who have too much stuff, it is a daunting prospect. While I am not at all a fan of minimalist living, if you have to be easily mobile I can definitely see the allure. I tend to stay put as a result. But things at the Enclave are continuing to deteriorate and I feeling rather pessimistic today about the owners' commitment to let the management company have adequate resources to manage the property effectively, so I am looking about rather casually to see what is available. To start the process, I had to reflect on what I really want in the way of amenities:

washer and dryer in the unit – I have dealt with having to pay quarters to wash and dry clothes and I am not going to do that anymore.
be pet-friendly – I'm not getting rid of Panda
high speed internet availability – many older buildings just do not have robust wiring. In addition, I prefer FIOS to Comcast
a garage – this was not on my list originally, but after having this luxury for over a decade, it has become a need
either a second bedroom I can use for storage or onsite storage – even if I trim things down radically and clear out the Disaster Area, it seems to me that I still am going to have things like Christmas decorations and such that will need to be stored.
Location is going to be key. I really don't want to have to drive an hour to get to work for one thing [and we may be moving in the spring of next year] and I really don't want to be an hour from my daughter's domicile for another [or I might as well move to Florida and work for the House of the Mouse]. This limits where I am going to look. And last, price is a consideration – a BIG consideration. Right now my housing cost [rent and utilities] is around 46% of my gross income and fiscal prudence would have it around 30%. Problem is that there aren't a lot of places with those amenities in nice areas at that price point….

If Satan offered me the "right click and take into inventory" feature in what we call "real life" I just might be tempted …..

0 Comments

|

Add Comment

| Permalink | Thursday, July 18, 2019