Carol H Tucker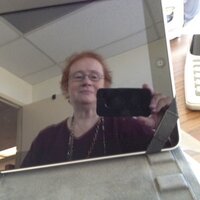 Passionate about knowledge management and organizational development, expert in loan servicing, virtual world denizen and community facilitator, and a DISNEY fan



Contact Me




Subscribe to this blog
beladona Memorial

Be warned:in this very rich environment where you can immerse yourself so completely, your emotions will become engaged -- and not everyone is cognizant of that. Among the many excellent features of SL, there is no auto-return on hearts, so be wary of where your's wanders...


Navigation Calendar
Days with posts will be linked
Most Recent Posts

my home




Today is the 4th day of the 16th week, the 17th day of the 4th month, the 107th day of 2019, and:

Bat Appreciation Day
Blah, Blah, Blah Day
Ellis Island Family History Day
Herbalist Day
Holy Wednesday
International Ford Mustang Day
International Haiku Poetry Day
Malbec World Day
National Bookmobile Day
National Cheeseball Day
National Kickball Day
Nothing Like a Dame Day
School Librarian's Day
World Hemophilia Day
I have lived a rented home for most of my life. My parents sold their home when I was about two, moved first into an apartment and then into a row house where I grew up. Oak Grove was a great place back then – the owners and the maintenance staff lived right there too and they really took care of the place. When they all retired and sold the place, things went downhill fast. Although I owned a home with my ex for ten years, I have been renting now for the past 34 years. I am one of those "long-term" residents – once I settle down and make an apartment my home, I am not very quick to leave. The apartments in Randallstown were also owner managed, but when they started going through different management companies, they went downhill and I finally moved after 22 years. Because all of my workplaces for the past decade had been around the DC area, I moved to another owner-managed apartment, and have lived at The Enclave for the past 12+ years. This complex starting to struggle with different management companies as well, and it appears we are starting to have an issue with the clientele that are coming in as new residents.

What are the symptoms of change for the worst? It honestly isn't about race or ethnicity or vouchers – it is about the way folks act. The situation in my building is a good example. We have a trash chute next to the elevators on every floor. All you have to do is open the door to the little alcove, open the chute door and throw your garbage down the chute. Recyclables such as boxes are to be broken down and taken either to the first floor, where you can go outside and put them in a dumpster for that purpose or drop them in a bin in the garage on your way to the car. For ten years, this system worked very well.

The ownership of the building changed hands 04.01.2018 and a new management company was brought in. All existing contracts were nullified by the sale, and the new owner did not go with the established folks for security, maintenance, housekeeping, elevator upkeep, or pest control. The results were not good and for six months problems proliferated. In older buildings, you have to stay on top of things or issues get ahead of you. Things are working better now, but a lot of the long-term residents left during this period, plus the contract to provide housing for the military was not renewed. As a result, there was an influx of new people – and I have issues with them:

trash and recyclables are just being dumped in front of the chute to the point that at times you cannot get the door open, and when that happens, garbage and trash are just left in the hallway
kids are being allowed to run and play in the hallways, sometimes roller skating, riding scooters and bikes
the building has been no smoking for years, but now the odor of smoke wafts in as folks stand on their balconies
the noise level – bone rattling base and screaming fights – has increased as has police visits as adjoining apartments call 911
In short, some of the new residents are simply not acting like good neighbors and it impacts the way that all of the new people are viewed. The older and long-term residents continue to move out; I've renewed for another year, but I'm starting to look about for alternatives




And then? You have to unpack!!!

I hate moving!
0 Comments

|

Add Comment

| Permalink | Wednesday, April 17, 2019