Carol H Tucker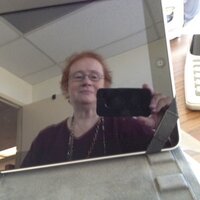 Passionate about knowledge management and organizational development, expert in loan servicing, virtual world denizen and community facilitator, and a DISNEY fan



Contact Me




Subscribe to this blog
beladona Memorial

Be warned:in this very rich environment where you can immerse yourself so completely, your emotions will become engaged -- and not everyone is cognizant of that. Among the many excellent features of SL, there is no auto-return on hearts, so be wary of where your's wanders...


Navigation Calendar
Days with posts will be linked
Most Recent Posts

make it stop....




Today is the 5th day of the 30th week, the 23rd day of the 7th month, the 205th day of 2020 [with only 154 shopping days until Christmas], and:

Gorgeous Grandma Day
Hot Enough For Ya Day ((in these days of climate change, this has an ironic ring to it))
National Intern Day
National Refreshment Day
National Vanilla Ice Cream Day
Peanut Butter and Chocolate Day
Sprinkle Day
World Sjogren's Day
Yada, Yada, Yada Day
ON THIS DAY IN ...

1599 = Caravaggio's 1st public commission for paintings

1764 - James Otis publishes views on taxation without representation

1829 – In the United States, William Austin Burt patents the typographer, a precursor to the typewriter.

1872 - African American inventor Elijah McCoy is granted a patent for lubricators for steam-engines

1903 – The Ford Motor Company sells its first car.

1904 - Ice cream cone created during St Louis World Fair - the 1st cone reputedly by Charles E. Menches

1937- Isolation of pituitary hormone announced (Yale University)

1962 – Telstar relays the first publicly transmitted, live trans-Atlantic television program, featuring Walter Cronkite.

1965 - The Beatles' "Help" is released in UK

1966 - Napoleon XIV releases "They're Coming to Take Me Away, Ha! Ha!"

1966 - Frank Sinatra's album "Strangers In The Night" is No. 1 on the US charts, (Grammy for Record Of The Year and Best Male Vocal Performance)

1967 - First successful liver transplant, on 19 month old Julie Rodriguez by Dr Starzl at the University of Colorado

1969 - USSR performs nuclear Test at Eastern Kazakh/Semipalitinsk USSR

1972 – The United States launches Landsat 1, the first Earth-resources satellite

1972 - 1st Earth Resources Technology Satellite (ERTS) is launched

1973 - USSR performs nuclear Test at Eastern Kazakh/Semipalitinsk USSR

1976 - France performs nuclear Test at Mururoa atoll

1976 - USSR performs nuclear Test at Eastern Kazakh/Semipalitinsk USSR

1980 - Soyuz 37 ferries 2 cosmonauts (1 Vietnamese) to Salyut 6

1994 - Space shuttle STS-65: Columbia 17, lands after record 14 days 55 mins

1995 – Comet Hale–Bopp is discovered; it becomes visible to the naked eye on Earth nearly a year later.

1999 – Space Shuttle Columbia launches on STS-93, with Eileen Collins becoming the first female space shuttle commander. The shuttle also carried and deployed the Chandra X-ray Observatory

2015 – NASA's Kepler mission announces discovery of the most Earth-like planet yet - Kepler-452b, 1,400 light years from Earth

2019 - Investigation launched after no girls born in three months in 132 villages in Uttarkashi district, India, with sex-selective abortions suspected as the reason

2020 - NASA Voyager is 20 hrs 41 mins 29 secs of light-travel time from Earth



Quote of the day:
"The purpose of our human life is huge—to grow larger hearts and open minds—and we celebrate that we can do this in this moment."
~ Judith Simmer-Brown, "Five Practices to Change Your Mind"

2020 is 56% over and I am not sure that is good news or not.

Thanks to COVID-19 I have become a recluse who can count on the my fingers the number of times in the past 113 days I have been outside my apartment except to go downstairs and get the mail or throw out the recycling. In the past four months, I have been to the vet once, to the pharmacy once, and visited with my daughter and her family exactly four times. I am afraid to go out because so few people are actually wearing masks, and I worry every single time I get in that elevator

I am worried sick about my country. Federal officers – not military folks who have taken an oath to protect citizens -- but a group of folks answerable only to the president whacking, tear-gassing, abducting protestors. A president who says on nationwide TV that he might not accept the results of an election and is already claiming it is rigged. And constant pressure to reopen everything, dispense with masks, and force children to go back to school despite soaring infection and death rates




Like so many people, I'm tired.

Just, tired….