Carol H Tucker

Passionate about knowledge management and organizational development, expert in loan servicing, virtual world denizen and community facilitator, and a DISNEY fan



Contact Me




Subscribe to this blog
beladona Memorial

Be warned:in this very rich environment where you can immerse yourself so completely, your emotions will become engaged -- and not everyone is cognizant of that. Among the many excellent features of SL, there is no auto-return on hearts, so be wary of where your's wanders...


kala

(¤´¨)
¸.·´¸.·*´¨) ¸.·*¨)
(¸.·´ (¸.·`¤"If you will practice being fictional for awhile, you will understand that fictional characters are sometimes more real than people with bodies and heartbeats." -- Richard Bach


Navigation Calendar
Days with posts will be linked
Most Recent Posts

I don't know what to do




Today is the 3rd day of the 25th week, the 19th day of the 6th month, the 170th day of 2018, and:

Free BSD Day – celebrated since 1993
Garfield the Cat Day -- the ginger feline was created by cartoonist Jim Davis and appeared in a cartoon strip on this day in 1978.
International Day For The Elimination of Sexual Violence in Conflict
Juneteeth -- [AKA Juneteenth Independence Day or Freedom Day] -- an American holiday that commemorates the June 19, 1865, announcement of the abolition of slavery in the U.S. state of Texas, and more generally the emancipation of enslaved African-Americans throughout the former Confederacy of the southern United States.
National Cherry Tart Day
National Eat an Oreo Day
National Martini Day
National Pets in Film Day
National Watch Day
World Sauntering Day
World Sickle Cell Day
ON THIS DAY IN ...

325 – The original Nicene Creed was presented at the First Council of Nicaea, explicitly affirming the co-essential divinity of the Son, applying to him the term "consubstantial".

1586 – English colonists leave Roanoke Island, after failing to establish England's first permanent settlement in North America.

1846 – The first officially recorded, organized baseball game is played under Alexander Cartwright's rules on Hoboken, New Jersey's Elysian Fields with the New York Base Ball Club defeating the Knickerbockers 23–1. Cartwright umpired.

1862 – The U.S. Congress prohibits slavery in United States territories, nullifying Dred Scott v. Sandford.

1865 – Over two years after the Emancipation Proclamation, slaves in Galveston, Texas, United States, are finally informed of their freedom. The anniversary is still officially celebrated in Texas and 41 other contiguous states as Juneteenth.

1910 – The first Father's Day is celebrated in Spokane, Washington [although that claim has been disputed]

1915 – USS Arizona (BB-39) is launched. The wreck still lies at the bottom of Pearl Harbor and the USS Arizona Memorial, dedicated on 30 May 1962 to all those who died during the attack, straddles the ship's hull.

1917 - During World War I, King George V changed the British royal family's German-sounding surname, Saxe-Coburg-Gotha, to Windsor.

1934 – The Communications Act of 1934 establishes the United States' Federal Communications Commission (FCC).

1943 – The Philadelphia Eagles and Pittsburgh Steelers in the NFL merge for one season due to player shortages caused by World War II.

1949 – The first ever NASCAR race was held at Charlotte Motor Speedway.

1961 - The Supreme Court struck down a provision in Maryland's constitution requiring state officeholders to profess a belief in God.

1978 – Garfield, holder of the Guinness World Record for the world's most widely syndicated comic strip, makes its debut.

2018 - NASA Voyager is 19 hrs 37 mins 29 secs of light-travel time from Earth



The past couple of days have been very bad:

Crying children
Trade wars
Eviscerated health care
Withdrawing from the UN Human Rights council
Isolationism and saber rattling
Fake news, outright lying, refusing to accept responsibility for your own actions, and paying attention when the beloved leader speaks
And no water in Flint, Michigan or power in Puerto Rico


Notice that we suddenly aren't talking about collusion with Russia or Russian interference in the election processes anymore. Notice that we are not talking about rampant corruption and making money at the taxpayers' expense anymore. Add to that dealing with Pele and climate change – even FOX News is acknowledging it – and what you have is a rather toxic stew that is frankly exhausting. I find myself looking at my neighbors and asking rather incredulously, "THIS is what you call progress?", or I would if I wasn't pretty sure some of them would be enthusiastic about the changes. Well one thing is for certain, the political scene has been shaken up and I have no idea how long it will take for the dust to settle.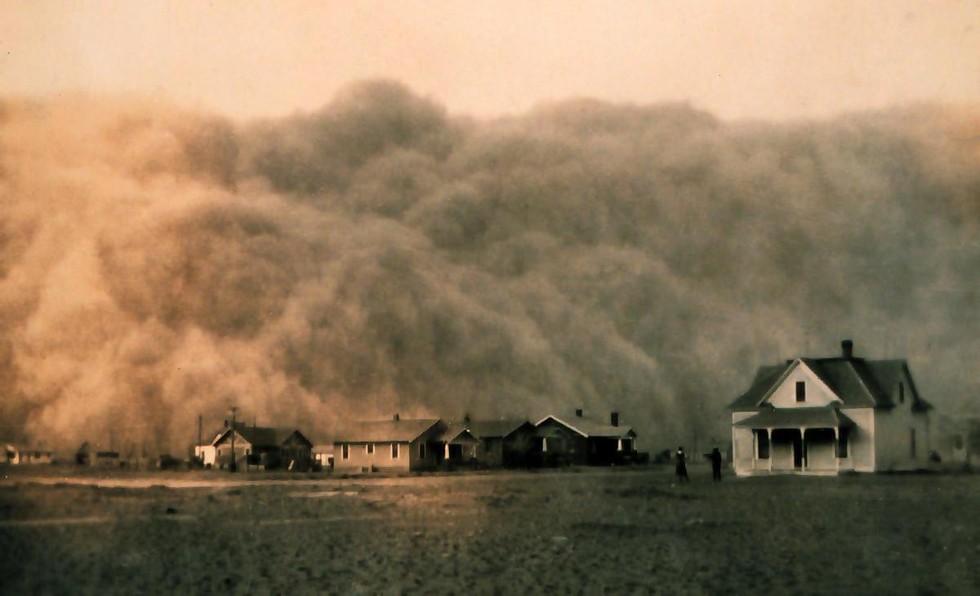 It took almost a decade before all the dust settled from the dust bowl. I wonder how long it will take to repair the ravages of our current actions?

0 Comments

|

Add Comment

| Permalink | Tuesday, June 19, 2018