Carol H Tucker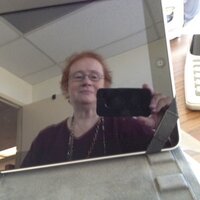 Passionate about knowledge management and organizational development, expert in loan servicing, virtual world denizen and community facilitator, and a DISNEY fan



Contact Me




Subscribe to this blog
beladona Memorial

Be warned:in this very rich environment where you can immerse yourself so completely, your emotions will become engaged -- and not everyone is cognizant of that. Among the many excellent features of SL, there is no auto-return on hearts, so be wary of where your's wanders...


Navigation Calendar
Days with posts will be linked
Most Recent Posts

Every October 9th...





Today is my mother's birthday – she would've been 91 years old.

Marian was a proud woman with a backbone of sheer tempered steel. Like the rest of her family, she equated love and acceptance as only deserved by those who behaved properly and lived up to expectations. She took what life dealt her and coped, and she had little sympathy, patience, or even tolerance for those who could not do the same.

My mother and I were not close. In fact, we had a downright contentious relationship and the result was that we spent many years totally estranged, despite the fact that I was an only child. On the whole, she may have loved her daughter, but she definitely didn't LIKE or approve of me. As a result, she never saw her two grandchildren grow up. We were reconciled while I was with Frank, and indeed, she even moved in with me eleven years ago when the apartment complex where she had lived for 35 years declined to renew her lease again. That turned out to be a huge mistake for I had no idea how far gone in dementia she was. The result was she needed far more care than I could provide. And at the end of her life, when she needed assistance, it was the wife of her cousin, rather than I, who stepped up and took care of her needs, smoothing the way when she had to transfer from assisted living to a nursing home, taking her to doctor appointments, visiting with her. I only tried to visit my mother once a year, on her birthday, and settled for sending her flowers for the other holidays. Margaret did a wonderful job working with her and only towards the end did she have the same issues with my mother that I had experienced from the get go.

But I learned a lot from my mother that I applied to raising my own children. I learned that love should be unconditional -- and worked hard to send the message that even when I didn't approve of behavior or actions, my kids were always and forever, family. I learned that fighting by going for the jugular and tearing someone apart emotionally was not the way to engage in conflicts was not a sustainable course of action if you wanted to stay in relationships. I learned that unlike the law of physics, every action could have an opposite and totally disparate reaction. I learned never to wear white before Memorial Day and after Labor Day. And most importantly, I learned that I always have a choice – I may not like the alternatives in front of me [such as do this or die] but I can choose, and that I am as a person the sum total of those choices that I have made.

Mothers' Day and her birthday are both days of reflection for me. I may look like Pete [that was her nickname], but I am not like her and never will turn into her.




But sometimes I do hear echoes of her and I still don't wear white out of season….

0 Comments

|

Add Comment

| Permalink | Tuesday, October 9, 2018