Carol H Tucker

Passionate about knowledge management and organizational development, expert in loan servicing, virtual world denizen and community facilitator, and a DISNEY fan



Contact Me




Subscribe to this blog
beladona Memorial

Be warned:in this very rich environment where you can immerse yourself so completely, your emotions will become engaged -- and not everyone is cognizant of that. Among the many excellent features of SL, there is no auto-return on hearts, so be wary of where your's wanders...


kala

(¤´¨)
¸.·´¸.·*´¨) ¸.·*¨)
(¸.·´ (¸.·`¤"If you will practice being fictional for awhile, you will understand that fictional characters are sometimes more real than people with bodies and heartbeats." -- Richard Bach


Navigation Calendar
Days with posts will be linked
Most Recent Posts

yup we made it




Today is the 6th day of the 31st week, the 3rd day of the 8th month, the 215th day of 2018 [with only 143 shopping days until Christmas], and:

Airplane Crop Duster Day
Braham Pie or Homemade Pie Day
Esther Day
Friendship Day
Grab Some Nuts Day
Independence Day -- Niger from France in 1960.
International Beer Day
National Watermelon Day
Tomboy Tools Day
Twins Day
ON THIS DAY IN ...

435 – Deposed Ecumenical Patriarch of Constantinople Nestorius, considered the originator of Nestorianism, is exiled by Roman Emperor Theodosius II to a monastery in Egypt.

1031 – Olaf II of Norway is canonized as Saint Olaf by Grimketel, the English Bishop of Selsey.

1492 – Christopher Columbus sets sail from Palos de la Frontera, Spain.

1527 – The first known letter from North America is sent by John Rut while at St. John's, Newfoundland.

1678 – Robert LaSalle builds the Le Griffon, the first known ship built on the Great Lakes.

1778 – The theatre La Scala in Milan is inaugurated with the première of Antonio Salieri's Europa riconosciuta.

1811 – First ascent of Jungfrau, third highest summit in the Bernese Alps by brothers Johann Rudolf and Hieronymus Meyer.

1852 – Harvard University wins the first Boat Race between Yale University and Harvard. The race is also the first American intercollegiate athletic event

1859 – The American Dental Association is founded in Niagara Falls, New York.

1900 – The Firestone Tire and Rubber Company is founded.

1921 – Major League Baseball Commissioner Kenesaw Mountain Landis confirms the ban of the eight Chicago Black Sox, the day after they were acquitted by a Chicago court.

1936 – Jesse Owens wins the 100 metre dash, defeating Ralph Metcalfe, at the Berlin Olympics.

1946 – Santa Claus Land, the world's first themed amusement park, opens in Santa Claus, Indiana, United States.

1958 – The world's first nuclear submarine, the USS Nautilus, became the first vessel to complete a submerged transit of the geographical North Pole.

1977 – Tandy Corporation announces the TRS-80, one of the world's first mass-produced personal computers.

2000 - RCMP files charges against Michael Calce, a 16-year-old Montréal hacker using the handle "Mafiaboy"; arrested for bringing down several major commercial websites, including CNN.com, Amazon.com, eBay and Yahoo, using denial-of-service attacks which cost the companies more than a billion dollars.



Yes I know that many people do not have off on Saturdays and Sundays. When I worked in retail and when I started in banking on the teller line, I too worked on the weekends and had other days off. But for many of us, Friday evenings are the best time of the week when the work week is behind us and a full weekend stretches ahead of us….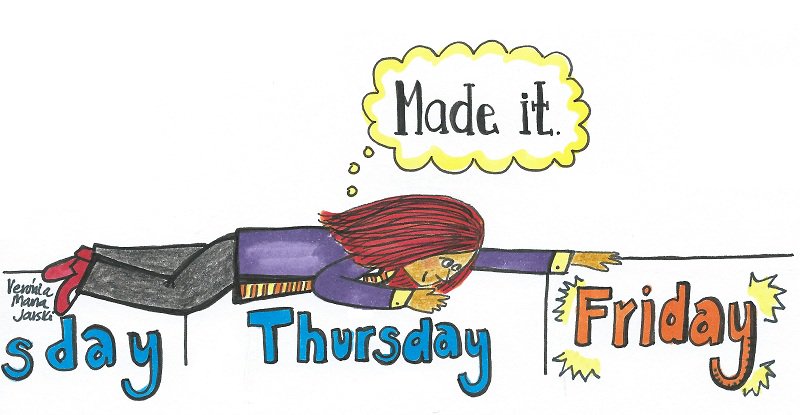 0 Comments

|

Add Comment

| Permalink | Friday, August 3, 2018