Carol H Tucker

Passionate about knowledge management and organizational development, expert in loan servicing, virtual world denizen and community facilitator, and a DISNEY fan



Contact Me




Subscribe to this blog
beladona Memorial

Be warned:in this very rich environment where you can immerse yourself so completely, your emotions will become engaged -- and not everyone is cognizant of that. Among the many excellent features of SL, there is no auto-return on hearts, so be wary of where your's wanders...


kala

(¤´¨)
¸.·´¸.·*´¨) ¸.·*¨)
(¸.·´ (¸.·`¤"If you will practice being fictional for awhile, you will understand that fictional characters are sometimes more real than people with bodies and heartbeats." -- Richard Bach


Navigation Calendar
Days with posts will be linked
Most Recent Posts

happy birthday




Today is the 6th day of the 22nd week, the 1st day of the 6th month, the 152nd day of 2018 [with only 206 shopping days until Christmas], and:

Dare Day
Dinosaur Day
Don't Give Up The Ship Day
Flip a Coin Day
Global Day of Parents
Heimlich Maneuver Day
Horseradish Day
Hug Your Cat Day
International Children's Day
Mike, The Headless Chicken Day
National Dare Day
National Doughnut Day
National Go Barefoot Day
National Hazelnut Cake Day
National Leave the Office Early Day
National Nail Polish Day
national Olive Day
National Pen Pal Day
New Year's Resolution Recommitment Day
Oscar the Grouch Day
Say Something Nice Day
Stand for Children Day
Superman's Birthday (Comic Book)
Wear a Dress Day
World Milk Day


On this day in ...

1495 – A monk, John Cor, records the first known batch of Scotch whisky.

1831 – James Clark Ross becomes the first European at the North Magnetic Pole.

1855 – The American adventurer William Walker conquers Nicaragua.

1857 – Charles Baudelaire's Les Fleurs du mal is published.

1879 – Napoléon Eugène, the last dynastic Bonaparte, is killed in the Anglo-Zulu War.

1890 – The United States Census Bureau begins using Herman Hollerith's tabulating machine to count census returns.

1910 – Robert Falcon Scott's second South Pole expedition leaves Cardiff.

1925 - Baseball Hall of Famer Lou Gehrig's streak of playing in 2,130 consecutive games began when he entered a game as a pinch hitter for the New York Yankees.

1938 - Toronto-born cartoonist Joe Shuster teams up with Jerry Siegel to create Superman, making his First appearance in DC Comics' Action Comics Series issue #1; the cost is 10 cents (collectors will pay over $100,000 today)

1939 – First flight of the German Focke-Wulf Fw 190 fighter-bomber airplane.

1967 – The Beatles' Sgt. Pepper's Lonely Hearts Club Band is released.

1974 – The Heimlich maneuver for rescuing choking victims is published in the journal Emergency Medicine.

1978 – The first international applications under the Patent Cooperation Treaty are filed.

1980 - CNN made its debut.

2018 - NASA Voyager is 19 hrs 35 mins 54 secs of light-travel time and Voyager 2 16 hrs 13 mins 16 secs of light-travel time from Earth



Oscar the Grouch was my son's favorite muppet back in the days when my kids were fascinated by Sesame Street. He knew all the words to Oscar's signature song "I love Trash" and would warble it cheerfully. In a way? I have always wondered if Oscar and I didn't meet on the family tree somewhere as there is little doubt being a pack rat means my domiciles are always cluttered. While I play at the idea of living in a tiny house, or trailer, or even in a one bedroom apartment, the fact of the matter is that I have an awful lot of stuff. There is the Disaster Area, an entire room awaiting my attention for things to be either given away or thrown away. My book shelves do not only hold books – there is also a plethora of knick-knacks that sit in front of the books. Photos and pictures adorn every wall, even walking down the hall is a gallery of old kid pictures, and I have pictures stored in the aforesaid Disaster Area to hang and no place to do so. There are pillows and stuffed pigs and Disney banks and just welter of possessions that make the very idea of packing up and moving a horrifying thought. And the idea of tackling the downsizing, of getting rid of souvenirs and gifts or of clothing that is decades old but still fits and you keep telling yourself COULD be worn again but you never will? I guess I have gotten too fond of my stuff being the backdrop of my day-to-day life. Like Oscar, I guess I love trash....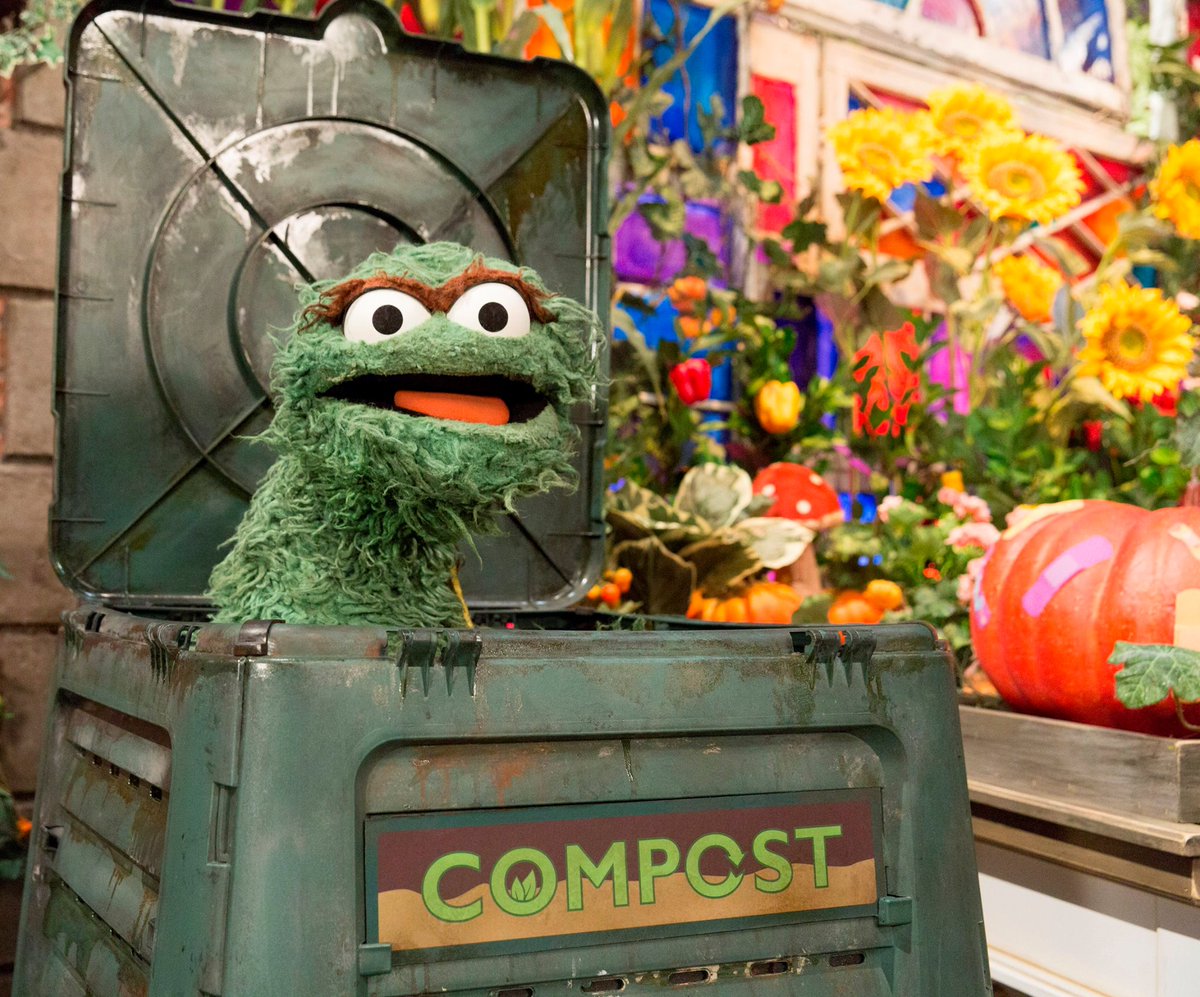 Incidentally, since Oscar made his debut on this day in 1969, you might think he was 49, but according to Oscar he is 43, now and always.

0 Comments

|

Add Comment

| Permalink | Friday, June 1, 2018